Photography: Daisuke Shima / Nacasa & Partners; courtesy
Emmanuelle Moureaux
The thickness of merino wool is about one-fifth of the human hair, giving it a smooth and delicate texture. Emmanuelle Moureaux created "thin-thin-thin" a narrative and simultaneous global art installation for UNIQLO's flagship stores in six countries for their special autumn item, 'extra-fine merino'…
After the successful

100

colour

series

in Tokyo, French-born and Japan-based designer Emmanuelle Moureaux showed her passion for bold and rich

colours

once again, with her ultra-thin

colourful

art installation referenced from and for Japanese clothing brand UNIQLO's autumn-line signature collection in merino wool.
.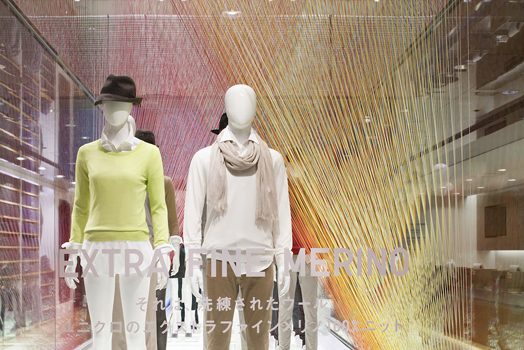 .
The long

fibres

and delicate nature of merino wool was represented as thin weightless lines in Emmanuelle's installation through weaves of

coloured

threads intersecting at various points in the showroom's windows, enveloping the mannequins in a three-dimensional wrap that appears to change form, when viewed from different angles. While the visual impacted the window display, attracting and arresting the attention of passersby, the mannequins dressed in merino woolens flaunted the autumn clothes line.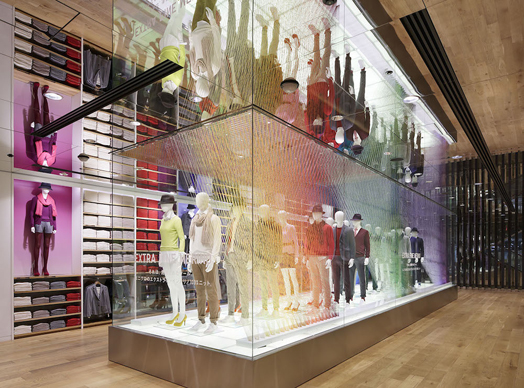 .
.

'Thin Thin Thin' - as the installation was aptly named - was first mounted at Tokyo's Ginza flagship store's facade and glass case. Inside the store, 2,420 threads in 60 shades of autumn

colours

such as mustard, red, green, khaki and garnet were used for the main display case to create volume, with the threads radiating from the floor to the ceiling and the thin lines intersecting in the middle to add layers to the design.
While the threads represented the fine and light qualities of the label's autumn collection, the weightlessness of the masses referenced the way extra fine merino wool could keep warm air trapped within its fibres.
.
"Thin threads reflected and refracted, multiplying lines infinitely, giving an optical illusion of standing inside the microscopic world of extra-
fine merino yarn
," explains the designer.
The installation was so appreciated that the scenography was then simultaneously mounted in six countries as it celebrated the beginning of autumn in UNIQLO stores across Tokyo, New York,
San Francisco, Shanghai
, Berlin, London and Paris.