Info & Images: gmp architects
.
The Gyula Trebitsch school in the
urban district of Tonndorf, Hamburg is set for a new extension and replacement building as per the winning design of gmp architects…
Bagging the first prize
and design commission for the extension and replacement building for Gyula Trebitsch school
, architects von Gerkan, Marg and Partners (gmp)propose a new building that will be laid out in a meandering fashion in order to retain as much of the existing vegetation as possible.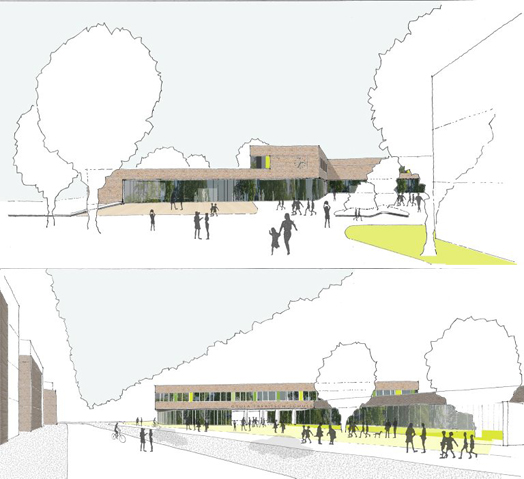 .
Designed to accommodate 17 classrooms, nine specialist subject rooms, and a refectory, the layout is intended to frame the outside entrance on one hand, while it will provide an additional schoolyard towards the campus, on the other. The shape of the building clearly expresses the three main parts - the classroom tract, specialist subject rooms and the student common room/refectory - each with independent access.
.
The bright red facing brickwork of the façade of the new building expresses a contextual vocabulary as it replicates the pattern language of the former building, the neighboring new buildings at Sonnenweg and the refurbished old buildings, which all contain shades of red brickwork elements.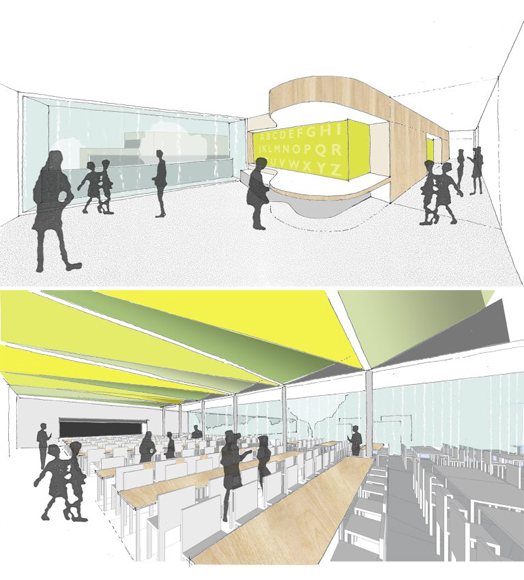 .
Its elevation will be structured by an interesting interplay of elegant all-round fenestration bands and generous, recessed and framed openings on the ground floor that will not only lead to the entrances, but also grant vistas into the foyers, the workshops for drama and dance, etc., and can be extended to form an assembly hall, the music hall and the common room/refectory.
The all-round fenestration band constitutes a rhythm in the structure and a child-friendly feel of a modern educational establishment is augmented by the varied colour scheme and light effects. Gently designed exterior spaces are proposed in deliberate contrast to the strict geometry of the new building. The architects intend to use the various trees to break up the new schoolyard, with benches provided as seating around them. In addition, it is possible to set up play equipment and provide quiet spaces in the schoolyard - it should be possible to make flexible and varied use of the open spaces to the best possible extent. In addition, a new generous entrance area is proposed to provide enough space for an outside terrace for the refectory and hence space for school parties, performances and other open-air events.
The construction is scheduled to begin in the autumn of 2015, and completion is estimated for the spring of 2017.