Photography: Courtesy the architects
The new Saw Swee Hock Student centre for London School of Economics is a building that embodies dynamism in the utmost form.
Designed by Ireland-based renowned architects O'Donnell +Toumey, this landmark building is characterized by the resilience and contrast in the architectural language followed in the existing campus as it is amid the network of medieval streets of London, where it stands.
Planning Model_View from Sheffield Street © Millennium Models
Planning Model_View from Claremarket ©Milleneum Models
.
Coming across as an architectural puzzle, the folded, chamfered, canted and faceted façade is put together with precise detailing using standard and custom-shaped bricks offset from each other in a sculpturesque wrap around the irregular arrangement of trapezoidal floor plates; and after careful study of site constraints, conforming to the tenets of the Rights of Light Envelope.
Watercolour sketch

©

ODT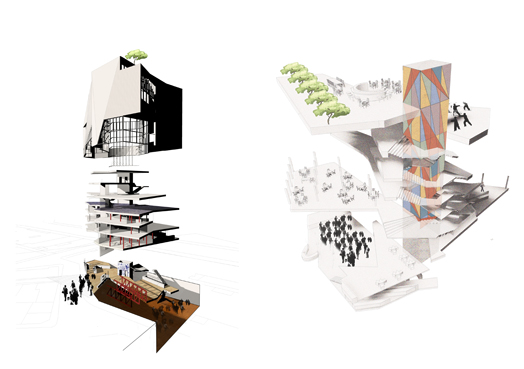 Vertical Circulation_ Visual Connections

©

ODT
Even though the spaces are carved with complex geometries, the movement inside the building is designed with accessibility and inclusive design as key features. With approaches being step-free and floor plate being flat, the circulation routes create vertical and horizontal meeting spaces and lively interludes, rather than just being modes of circulation.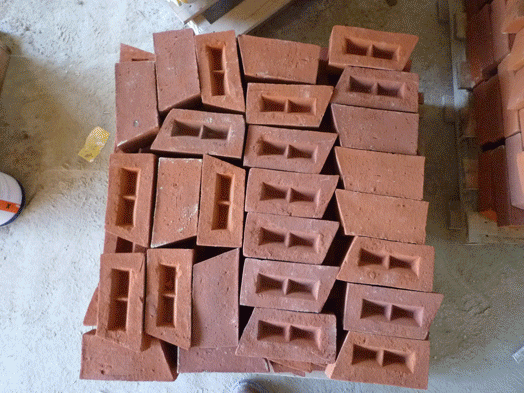 .
Open-work steel trusses, ribbed concrete slabs and solid wooden floor give a rustic feel to the interior, with light weight partition and sliding screens adding flexibility to the design. The spaces are allowed to flow into one another with the absence of closed corridors making the street and the building act as one social and sculptural entity.
Massing Model
©
ODT
Site plan - Concept sketch
©
ODT
.
Sustainability performance being the key criteria, the design incorporates intricately woven solid and perforated surfaces, with large areas of transparent glazing for daylight consideration – a pivotal feature in the generation of the tapering building form (carefully tailored to reduce the impact of its volume on the lighting levels in the surrounding buildings - becoming narrower as it rises). The niches that push in provide shading to the wall planes and permit cross ventilation, while increasing walkway space on the ground. Natural untreated materials like timber joinery, hand-made bricks and zinc roofs referred from the Green Guide, are used to embody the dynamic architectural character. Added to this the building conforms to state-of-the art Low-Zero-Carbon-Technologies (LZC) – a bouquet of ingrained sustainability features that have won the design a BREEAM Outstanding rating.
After bagging a host of prestigious awards (RIBA; RIAI best international award; Bricks –Supreme Award etc., etc., the project has recently been shortlisted for the coveted

Mies Van der Rohe Award for European Architecture.