Info & Images: Courtesy schmidt hammer lassen architects
.
The new Halifax Central Library, designed by Danish schmidt hammer lassen architects and Canadian Fowler Bauld & Mitchell, has an open, welcoming design that reflects the city's diverse population and heritage.
The 15,000 m2 library, an international competition win, is a catalyst for the regeneration of the downtown area and the product of an extensive co-creation process involving monthly public consultations and workshops with various focus groups.
The exterior of the library appears as four rectangular shapes placed one atop the other and horizontally twisted to relate to the two diagonal directions that are dominant in the otherwise orthogonal grid of the city.
.
"Halifax is a city, whose maritime heritage calls for attention, when designing a new public building. Therefore, the historical axis between the Halifax Citadel and the Halifax Harbour, crossing right through the library site, is reflected in the orientation of the fifth floor of the building containing the Halifax Living Room; hereby providing not only a unique view but also an understanding of the city's historical heritage," explains Founding Partner Morten Schmidt of schmidt hammer lassen architects.
.
.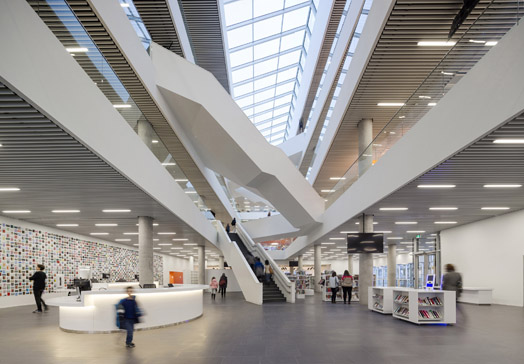 .
The interior of the library reflects the diversity of the exterior with stairs and bridges in the atrium connecting the five storeys. The light-filled atrium gives an overview of the wide range of facilities the library offers, including a 300-seat performance space, two cafés, gaming stations, music studios, dedicated space for adult literacy classes, a First Nations reading circle, and boardrooms for local entrepreneurs. The entire second floor is dedicated to children and young adults with areas designed for each age group, ranging from toddlers to teens.
.
"The new Halifax Central Library is a modern, hybrid library. It combines the best of a traditional library with new and innovative programmes and facilities," explains Partner Chris Hardie from schmidt hammer lassen architects. "By designing a library that is adaptable we embrace multiple functions to ensure that the library will meet the needs of the Halifax community into the future. People should see this building not only as a library but as a free public space in the heart of the city."