Photography: Courtesy Ice Hotel
Art Suite by David Andrén, Erik Törner, Johan Andrén & Tjåsa Lucia Gusfors
©Paulina Holmgren
Reborn in a new
avatar
every year, Sweden's Ice Hotel offers a unique winter experience in a setting so artistic, it's quite unlike anything you've ever experienced before...
In an age, when hotels increasingly attempt to portray themselves as pieces of art to boost tourism, here's one that is truly an art project in its own right.
SONG OF LOTUS Deluxe Suite by Kestutis Musteikis & Vytautas Musteikis ©Christopher Hauser
MIND THE GAP Art Suite by Marcus Dillistone & Magdalena Åkerström
©Christopher Hauser
Since the last 25 years, from October to December, the hotel is built from scratch by
a new set of architects, designers and artists, only to eventually melt down to the ground from April to June, the following year
. Located in the Swedish village of
Jukkasjärvi, some 200 km north of the Arctic Circle, it is the world's first and largest hotel that uses 'snice' - a word exclusively coined by the hotel for its exclusive building material that combines snow and ice.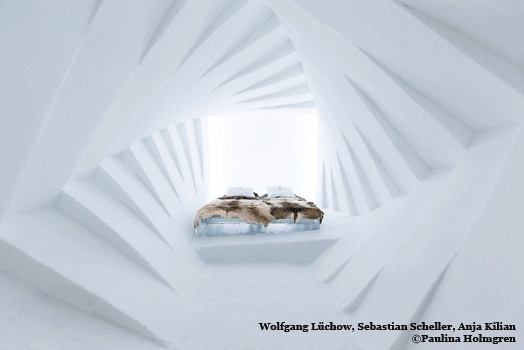 Art Suites
The 2015 rendition is particularly spectacular, apt even, given that
Ice Hotel
, which opened its doors for the season on December 12, 2014, celebrates its 25th anniversary this year. Among its 61 'cold' rooms (there are 72 warm rooms as well), of note are the hotel's twenty-odd exquisitely hand-carved art suites that incorporate light-based typography and sculptural creations.
Art Suite
HOT TYPE
©Paulina Holmgren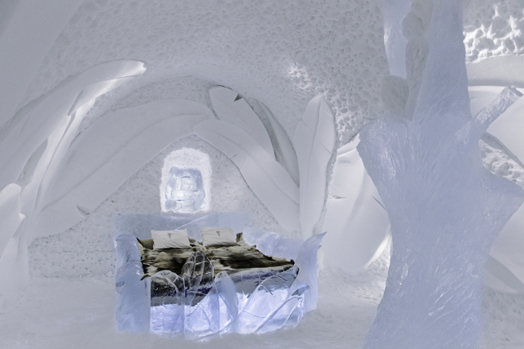 Art Suite with rainforest appeal ©Paulina Holmgren
Art Suite BEDTIME STORY by Wilfred Stijger & Edith van der Wetering

©Paulina Holmgren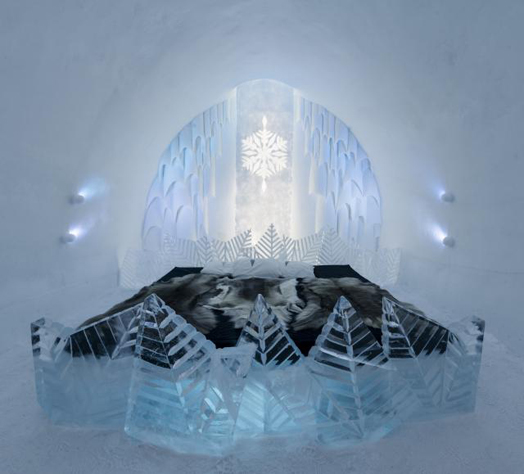 Nature inspired Art Suite
FROZTY FLOWER by Natsuki Saito & Shingo Saito
©Christopher Hauser
While the inner cogs and wheels of a clock inspire the design of the Time Piece suite, the Prime Mate suite transports guests into a lush rainforest. Yet another suite, Hot Type, commemorates the art of printmaking with a hand-carved wall quote that reads 'Hot Type in a Cold Setting', making it perfect for typography enthusiasts. Indeed, the latest reincarnation has accommodation suited to all tastes; some even feature themes inspired by Eastern European folk art and Baroque and Gothic architecture.
Wedding night suites carry abstract interpretations of love, intricately carved on walls. The hotel also houses an ice church that seats 40 guests as well as a majestic main hall that undoubtedly makes for an intimate wedding setting.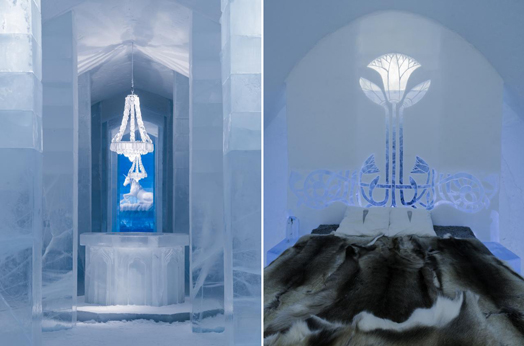 Main Hall Secret Garden by AnnaSofia
Mååg
SONG OF LOTUS Deluxe Suite by Kestutis Musteikis
& Alessandro Falca
©Christopher Hauser
& Vytautas Musteikis
©Christopher Hauser
Since 1989, the 5,500 sq. m. hotel has mostly worked with natural materials like ice, 'snice', wood and magnetite. While 1,000 tones of ice are harvested from the adjacent Torne River, 30,000 m3

of

'snice', also made with frozen river water, looks and insulates like snow with a structural strength closely resembling ice. In keeping with its strict pro-environmental policy, the hotel works with local producers to minimize emissions from deliveries, and manages most of its services on-site besides implementing energy-saving schemes across the property.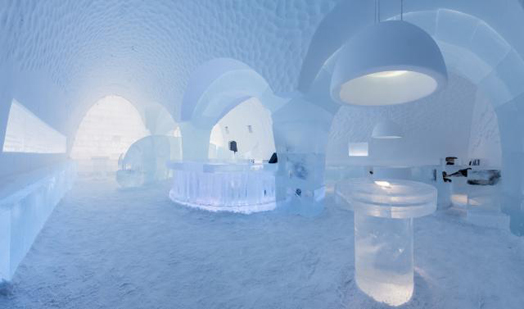 Icebar
By Tjåsa Gusfors, Jens Thoms Ivarsson & Maurizio Perron
©Christopher Hauser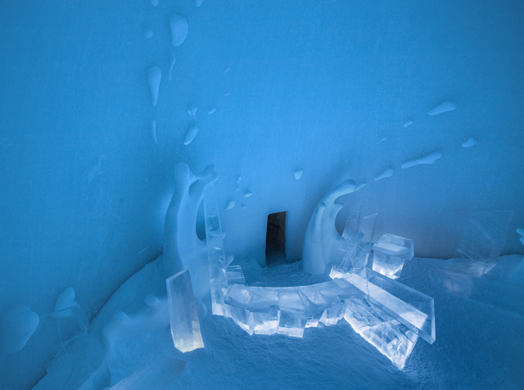 Icebar ©Viktor Tsarski

Besides an all-new design, the hotel debuts a new event hall and an ice bar. Also improved is the building technique used to create the Aurora Hall ice theatre that now features inner walls made of solid ice, and outer walls coated with soft snow. This method, involving an ice cast fixed on to a giant balloon, ensures that the theatre's natural light and acoustics are noticeably different from other areas in the hotel.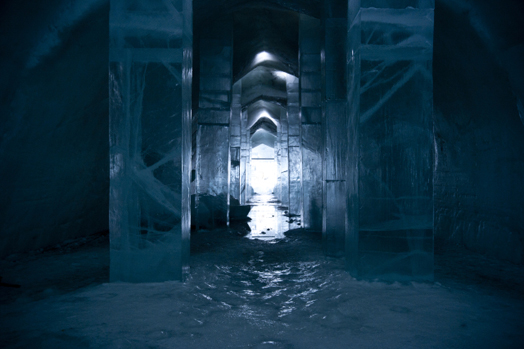 Return to the river - Ice Hotel melting
©
Martin Smedsén
Arne Bergh, Creative Director of the

Ice Hotel

, did consider making the Silver anniversary a 'best-of' rendition of previous years, but eventually decided to stick to what the hotel does best - to never repeat a design! This is, perhaps, why it welcomes 50,000 guests annually, who arrive to experience the architectural and design marvel that it is.