Info & Images: Courtesy MU Architecture
.
MU architecture proposes 50, 1200-1500 sq. ft high-end lodges, as housing units for the clients of the renowned Bigwin Gold Club on the island of Bigwin in Ontario, Canada...
Inspired by the native atmosphere emanating from the island, the Giants of Bigwin are a tribute to Amerindian legends and to the spirits still seemingly reigning over the island. Although the form is peculiar, the housing units evoke memories of native villages of the past.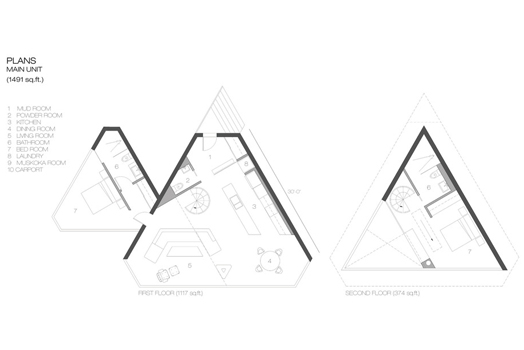 Plans of the Main Unit
Plans: Medium & Small Units
The triangular floor plan, resulting from a pyramid-like shape, allows for a multitude of views and layouts. To increase its adaptability to different ground conditions and inclinations, the structure rests on pillars. Lifting the first floor off the ground preserves a maximum of the pre-existing vegetation by minimizing the structure's footprint, while giving the occupants a certain degree of intimacy.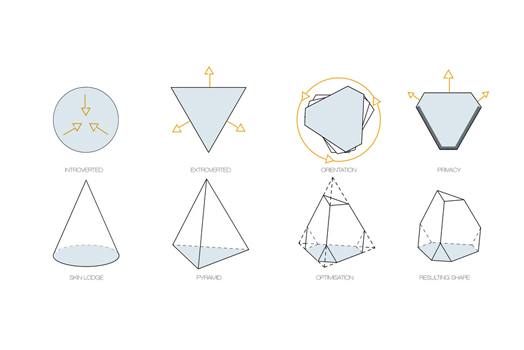 Orientation
The layout is simple and efficient; a main axis separates utility rooms from living space. The base housing unit consists of two parts: on the main floor of the principal volume is the entrance with a small washroom, kitchen, dinette and large living room with fireplace, placed in the middle of the space so as to be seen from every corner of the house. A spiral staircase connects the main floor with the mezzanine, where the master bedroom and an adjacent washroom are situated. A second volume with an additional bedroom and washroom, smaller in size and with a high ceiling, is attached to the principal volume.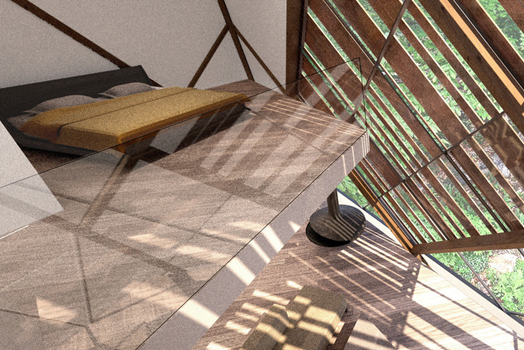 Mezzanine View of Living Space
Main Bedroom
The design proposal with its various volumes of different sizes and functions that can be combined in a multitude of ways adapts to the needs of the client and allows a high degree of personalization. For example, it is possible to attach a terrace, a garage for two golf carts or additional bedroom. Smaller base units consisting of only one bedroom are ideal for renting out.
Living Area
Each unit's structure is entirely prefabricated and assembled in-situ. The supporting construction is composed of wooden composite elements with steel anchors and covered with a system of glass panels and insulation panels. To make every unit unique, the envelope has been designed to respond to a set of parameters: the orientation, the views, the privacy and the location on the site determine the density and the spacing between the copper strips of the facade. Over time, the copper will oxidate and gradually blend in with the natural environment. The absence of traditional architectural elements and the unusual cladding materials creates an intentional loss of scale.
The proposed master plan divides the lots in 4 zones, corresponding to different construction phases. The units are distributed in small groups of 4 to 5 units, favouring interesting views and a high degree of privacy. Public spaces are created to stimulate exchange and develop a sense of community.