Photography: David Rodríguez y Carlos Huecas;courtesy Masquespacio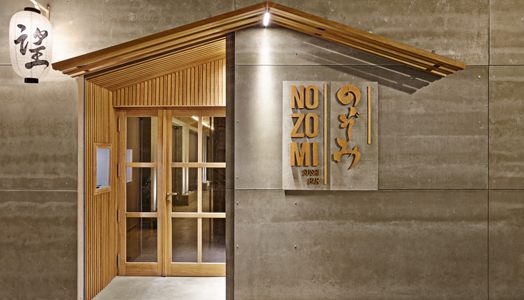 .
Spanish creative consultancy Masquespacio recreates a traditional Japanese village street in a contemporary sushi bar in Valencia, Spain…
Designed to evoke a traditional yet contemporary Japanese ambience, the Nozomi Sushi Bar is an exercise in duality straight from the word 'enter'. The restaurant's name translates as 'high-speed Japanese bullet train' and 'fulfilled dream'. This dichotomous representation - as a restaurant that can be identified as an emotional classic with a rational contemporary feel - can be spotted across its interiors and branding.
.
Brainchild of Japanese culture enthusiasts, traditional sushi specialists

and

entrepreneurs,

José

Miguel Herrera and Nuria Morell, Nozomi follows a thematic referencing traditional representation that takes off right from the Nozomi logo that employs both Western typography and hiragana (a Japanese script).
.
The duality then transits into the interior design with the 233 sq. m. area coming alive in a grey envelope (walls, ceiling and floors) offsetting intricate Japanese woodwork. A central cube recreating Japanese carpentry creates two corridors and approaches a principal eating lounge, where decorative elements, restrooms and a warehouse create an open-flow environment, typical of Eastern architecture.
.
Akin to the experience of walking on a street in Kyoto, Nozomi's aesthetics carry metaphorical interpretations of a market, pharmacy and detailed wooden village homes. The reinterpreted rooftops, however, convey modern Japanese aesthetics. Both elements, according to the project's creative director Ana Milena Hern

á

ndez Palacios, were a result of the team's photographic study of streets in Japan, where some of the most traditional homes stand well preserved till date.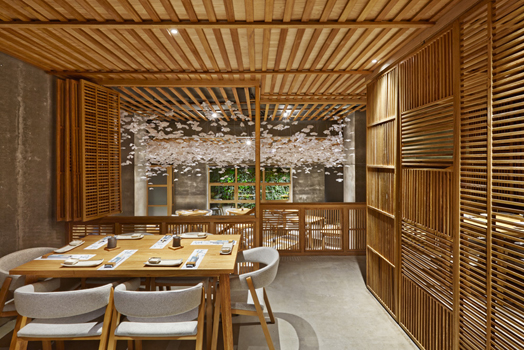 .
.
Guests can enjoy sushi under a cherry tree with origami-inspired flowers that bloom naturally in the central lounge, reminiscent of a Japanese courtyard. But the adjacent wooden-detail sushi bar is a contemporary take on the traditional sushi peddler. Likewise, another distinctive ambience greets one in a private dining space, where Japan's minimalist sensibility emerge through shadows generated by well-placed lighting that in turn highlights the irregular, unique carpentry.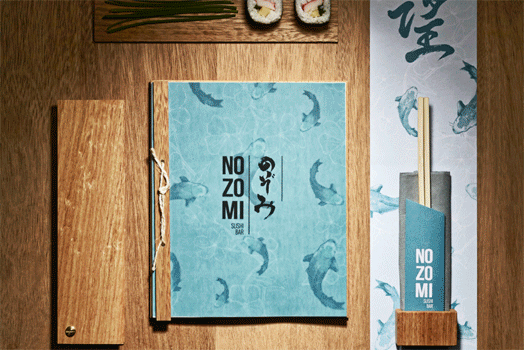 Branding
Japanese cuisine has for long tickled global palates, but of late, the sushi-sashimi experience -be it at a fine-dining restaurant in India or a QSR chain in Italy - is often complete with interiors to match. In this case, too, Masquespacio has effectively illustrated its versatility to build from scratch a cultural experience in a foreign land.