Photography:
Diego Opazo
; courtesy the architect
.
'Spectacular' would be an understatement, when it comes to describing Balint House in Valencia, Spain, as one would have to struggle hard to draw parallels to it. A privileged place within a Golf Course, this residential property, designed by Fran Silvestre Arquitectos, is poetry in its being.
A first look at this unique structure would effortlessly bring to mind, the images of some well-known monoliths. One could even be tempted to equate it with an all-too-cosy Oyster, encasing a precious pearl. Considering the location, the house has been designed so as to minimise its volumetric impact on the site, by incorporating elements that resemble the curved nature of the place's topography. And, in doing so, the structure itself delivers a punch. The sweeping, all-encompassing elliptical façade of the house lends incredible charm and character to the house.
.
.
.
The placement of the structure is towards the edge of the plot, leaving ample room for a pool and a garden on the southern side, while the aerodynamic visuals of the house guide the eye towards the depth of the neighbouring landscape. Continuity and sinuousness of the structure's exterior is in perfect harmony with the crescent-shaped pool, placed at the entrance. The presence of water around this 'oyster' takes it closer to true-type. Thick vegetation sets the lateral boundaries of the plot.
.
.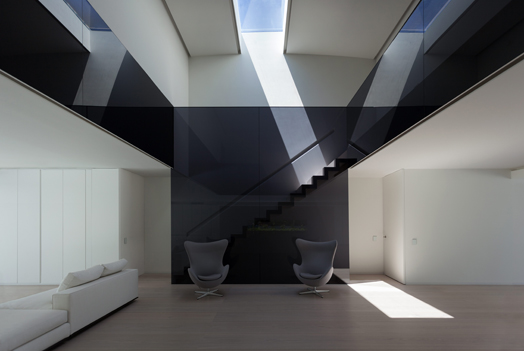 In a striking contrast to the curvaceous exterior, the interior of the house has orthogonalized spaces in its folds. The spacious patio leads into a central void that serves as a hub, connecting the drawing room, the kitchen and service spaces. A bunch of skylights over the area creates carpets of light that transform the inside of the house as the hours go by. Upper floor is where the sweeping façade perforates, for ventilation and the rooms are placed around this area.
.
.
Balint House, the pristine white beauty, in all its exuberance, stands testimony to the ingenuity of the human mind.