Info & Renders: Courtesy schmidt hammer lassen architects
schmidt hammer lassen architects propose flexible and robust design of high quality,
winning the competition for the new 50,000 sq. m retail and office complex for Store Brann Eiendom AS in central Oslo, Norway.
With their strong and innovative project design, the architects aim to enhance the existing urban qualities of the site and create a new connection between the building and city life.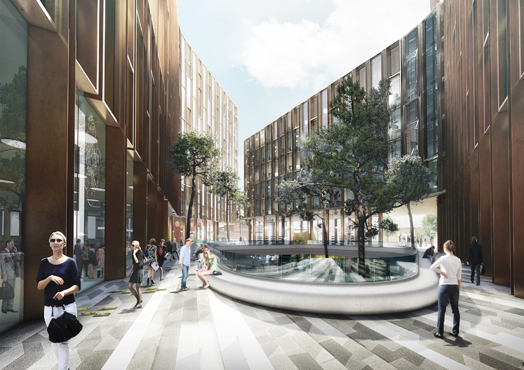 .
The winning proposal consists of an interconnected building structure in which the upper floors are divided into smaller building elements. From the outside, the project appears as a tight sculpture that adapts to the different scales of the site and to the city's street profile. Towards the street, the building opens up and creates passages and shortcuts through the complex. In the centre of the complex, a public space is created – an urban landscape – that, as a green oasis with tall slender pine trees, reflects the vertical motif on the façade.
"We have designed a project that creates a synergy between the building's daily users, the visitors to the many shops and restaurants, and the people, who simply pass through the neighbourhood," explains the project responsible and senior partner, Kristian Lars Ahlmark, from schmidt hammer lassen architects. "With our proposal, we are turning the building's various functions and the site's complex topography into the focal point of the project:stairs for sitting, sloping surfaces, openings between building levels, the cuttings, the urban landscape and the atrium courtyards will all help to create new connections between the building and urban life, and will add a whole new dynamic to the historic part of Oslo city."
The new building complex consists of approximately 10,000 sq. m. of mixed retail and commercial premises in the lower floors, while the upper floors consist of approximately 40,000 sq. m. of flexible office space. The office spaces are organized in such a way as to create a wide variety of rental options on different floors. In addition, several office levels will have access to outdoor roof terraces with incredible views of the city.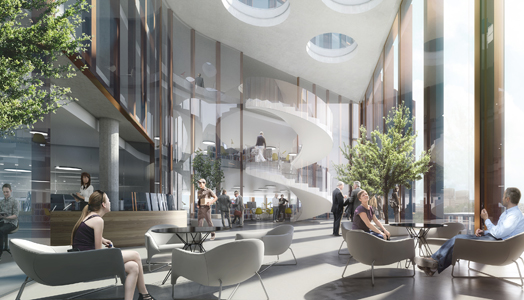 .
"The unique location deserves a building design that respects Oslo's history and Scandinavian aesthetics, and therefore we made sure that our design creates a dialogue with the site context," explains founding partner, John Foldbjerg Lassen. "The office areas are of a modern, robust design with a high level of quality and are designed to make maximum use of daylight conditions, as well as offering spectacular views of the Oslo skyline and fjord."
The office areas open up to a large common lobby, with access to related meeting and conference facilities. At the office levels, there are large open atriums where employees can meet and work.
The construction is scheduled to begin 2017 and the completion date is estimated at 2020.