Photography: Steve Montpetit; Courtesy the architect
"Nothing is lost; nothing is created; everything is transformed" is how L. McComberltée views the Juliette Aux Combles' remodelling project that it has executed in Plateau Mont-Royal, Montreal, having transformed an 'old-world' attic into a stunning living space, brilliantly woven around a bookshelf.
The attic, laid out on the third floor of a structure, dating back to the year 1880 had witnessed addition of multiple layers over the years, resulting in a shrinking of the living space. Considering the constraints that remodelling projects are invariably associated with, carving out a contemporary living space, with added possibilities in terms of privacy was a challenging proposition.
The flat roof of the attic was positioned over a layer of sloped roof, leading to the blockage of 5 feet of headroom. The blocked volume had components, mixed with layers of tar. By 'subtracting' this layer and 'adding' new joists to the existing structure, the architects have churned out a living space, accommodating a master bedroom and an artist studio, with 13 ft high ceiling. They've also added a mini 'peninsular volume' in the bedroom, comprising utilities and have used the outer shell of this area to hold the most unique feature of the project - a wrap-around book shelf.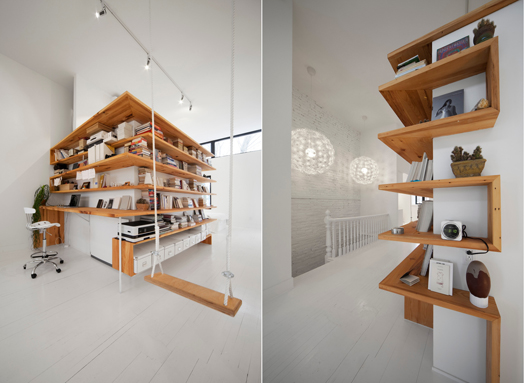 .
Carved out of wood, and reclaimed by careful deconstruction of the erstwhile roof, the innovative bookshelf clings to the outer shell all around, barring the entry point to the utility area. Made of Hemlock wood, the shelves literally wrap the volume with their continuous winding and unwinding around the corners.
The Hemlock wood serves as a pleasing contrast to the entire living space, bathed in white, its patina finish proudly displaying its age. Inclusion of a ribbon window in the area that hosted the attic and a tempered-glass skylight over the 'peninsular volume' ushers in a flood of daylight into the bedroom.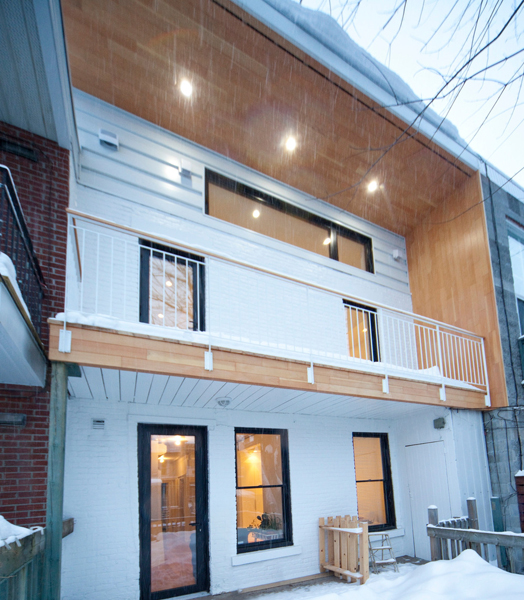 .
Remodelling is indeed highly challenging. Efforts like the one above,
by rethinking space distribution and by integrating moving partitions
serve to motivate us to take the plunge.