Photography: E
wout Huibers; courtesy Concrete
Amsterdam-based architecture firm Concrete, designs waterfront restaurant with an artisan kitchen as inspiration, matching the chef's renowned expertise with offbeat decor…
Situated along the scenic IJ waterfront in Westerdok Amsterdam, Nevel, as the restaurant is called, forges a seamless connect with its surroundings in a dual dialogue - one with nature as it opens via floor-to-ceiling clear glass walls to the waterfront on one side and to the forest on the other; and with
renowned chef Ricardo van Ede's artisan culinary skills that only uses seasonal and crude products from land and sea.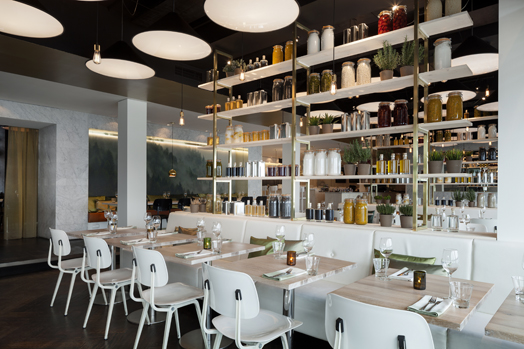 .
Every restaurant demands a signature in its ambience, an identity that defines its style, and Nevel's signature revolves around that of its culinary expert. Flaunting the tools – jars, bottles of ingredients in
white-washed oak wood
open-shelving with
brass inserts, filled with the chef's signature Piccalilli and chutneys act as the highlight of the eatery, forming its core attraction and acting as partitions with seating integrated around.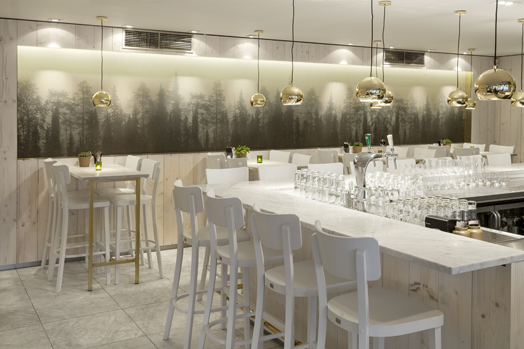 .
.
While this forms the open café ambience, private dining and the bar are set into niches to allow privacy offering the guests a warm and homey feel with the added drama brought in by large hanging fixtures in between subdued lighting.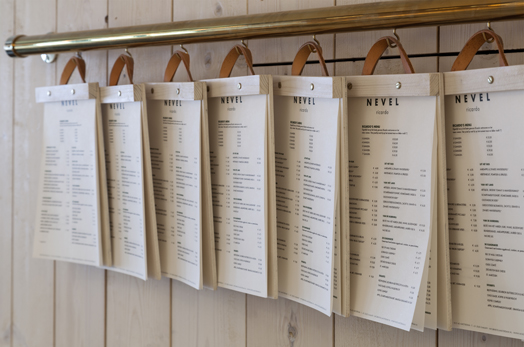 .
Taking a cue from the textures and flavours of the ingredients, the colour and material palettes constitute light tones
of stone clad facades, white furniture with beige upholstery and drapes infixed in between natural wood floors and a dark ceiling – creating a neutral envelope for the busy ambience to play upon. The inviting flow of natural light and panoramic views augments the airy and fresh aura, capturing the essence of gourmet dining.