Photography: Courtesy the architects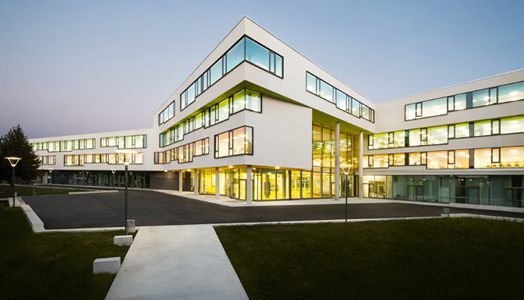 .
Coveted 'WAN Colour in Architecture Award, 2014' was announced recently. Behnisch Architects / Architectural firm Leinhäupl + Neuber have bagged the award for their design of a full-day secondary school in Ergolding, Germany that encapsulates a riot of colours and reinforces the qualities of the school's pedagogical vision.
Ever-changing educational approaches have a direct bearing on school architecture. With the concept of full-day schools catching up in Germany, the design accommodates independent, auxiliary spaces like learning-oriented lounges, breakout rooms for play & relaxation and cafeteria that aren't found in school buildings, conventionally. Harnessing the power of colours effectively, the architects have put together a simple yet technically optimised structure for the school that establishes an enlivening interior for learning.
A large, open atrium, spanning all the four levels gives a peek into the colour scheme of the building, besides serving as a visual connection between the various departments of the school. Colours yellow, orange, green and blue demarcate floor levels 1, 2, 3 and 4 respectively, with liberally interspersed neutrals. Besides its normal function as a covered lounge, the atrium's break-free surface ensures its use as a multi-function area, turning it into a venue for small exhibitions, theatre performances and concerts, when needed. Ceiling-mounted circular
luminaires
of varying sizes add interest to the area, by providing a striking contrast to straight lines of the building.
North-oriented classrooms enjoy the advantage of uniform exposure to sun. A daylight-steering system brings in additional light from the south façade into these classrooms, reducing the need for artificial lighting. Classrooms and workshops lead to hallways that broaden gradually, creating individual/group-working spaces and informal meeting points. The school is equipped with four gymnasia, a library, a large 'Silentiumraum' for teachers and two all-weather pitches (large and small), some of which are open to external groups.
.
.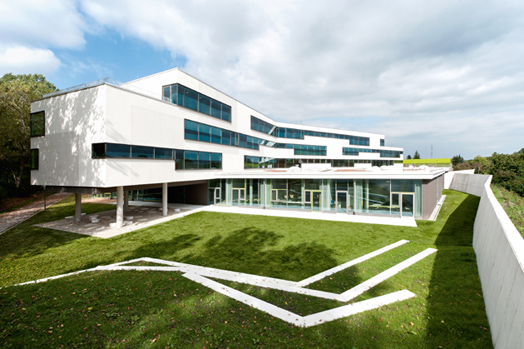 .
Base and peak demands for heating and cooling are met by using heat pump and gas-fuelled boiler respectively. Climatic concept of sports halls consists of floor heating and cooling in conjunction with basic mechanical/natural ventilation. A hybrid ventilation system ensures high quality air.
Colours speak eloquently and here's a proof…