Photography: Courtesy the architects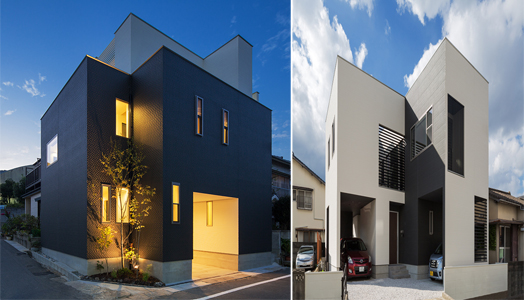 .
Architect Masahiko Sato of Japan gives expression to his architectural endeavours in clearly linear terms in two of his residential projects completed during late 2014 in Inasa City of Nagasaki and Onojo City of Fukuoka.
Aided by ubiquitous skylights, his linear designs pack a punch that could dislodge people's notions about linearly designed houses altogether. 'I2 House', a 129 sq. m. triplex, standing on a 76 sq.m. plot and 'N10 House', a 171 sq. m. duplex, standing on a 200 sq. m. plot are testimonies to some of the novel possibilities in linear designs.
By placing the components of these houses around huge sky-lit passages that run through all the floors, the architect ensures oodles of daylight and natural ventilation to all nooks and corners. These passages also serve to bring forth a sense of 'vertical' connectedness, enhancing the warmth-factor by leaps and bounds. He's employed bi-layer transparent glass (with and without grid) and bi-layer low-E glass of 12/16 mm to achieve the result.
Artificial lighting is another feature that adds to the linearity of these houses. In some of the most linearly designed spaces, artificial lights run uninterruptedly along the borders of ceilings, in essence, 'highlighting' the signature-feature of these houses. Use of elongated floor tiles helps to accentuate linearity at the ground level.
Absolute minimalism marks its presence so much so that at times, the I2 House demands a closer look to appreciate the utilitarian wisdom of having an open kitchen positioned right beside the dining space, with all its work-areas hidden behind a smart enclosure.
Both the houses are wooden structures.
Both the houses are wooden structures and accommodate a Japanese-style room besides standard bedrooms. Different varieties of siding make up the exterior finish while a neutral colour palette rules the roost.