Photography:
Negamiarchi; c
ourtesy
A-cero design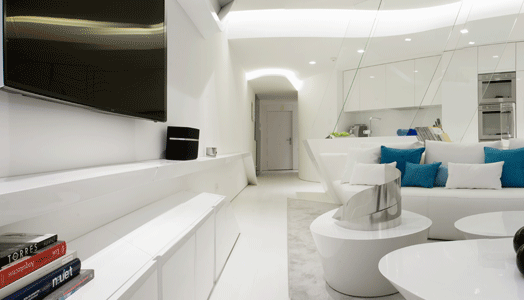 .
Young homeowners, up-to-the-minute amenities, a modern home wrapped in a shroud of white...
When
architecture studio A-cero, managed by Joaquin Torres and Rafael Llamazares, was asked to redesign an old outdated penthouse in a classic skyscrapper in Madrid, they cashed in on the panoramic view by zeroing in on a minimalist palette, opening up the 130 sq.m. apartment as a bauble in white.
.
.
.
Sectioning the apartment diagonally, an open-plan layout with living area and balcony and camouflaged kitchenette is conceptualised as a polyvalent space. The kitchenette can be partially or completely hidden behind a sliding partition, as convenient. A master bedroom with ensuite bathroom and another bedroom with a washroom in the corridor, sum up the spatial confuguration of the home.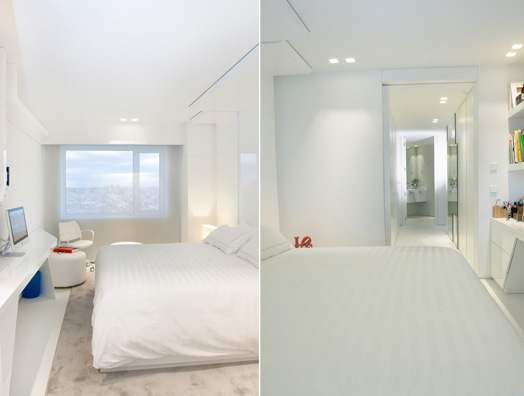 .
At a height of 142 metres, the home is endowed with abundant natural light that adds on to the magic of the serene balmy palette, keeping it glowing and warm. Its understated material palette of white wooden flooring and bespoke white lacquered furnite designed by A-cero are a perfect blend with the linear-angular kitchen, light fittings and

largely, the bespoke A-cero designed apartment.
The apartment comes alive with home automation in place, taking the the soft notes of oblique flowing lines to their ultimate in luxury. The icing on the cake is that the entire refurbishment exercise is accomplished within the most reasonable budget!