Photography: Courtesy the architect
Drift - the mesmerizing 9-metre high sculptural installation at the Kempinski Hotel in Dubai is a strategically laboured surface design that juxtaposes the contradictory environment of the hot desert sand dunes with the snow-capped mountains of the hotel's indoor ski slopes...
London-based surface designer Giles Miller excels yet again with his inimitable talent in designing surface finishes. This time, the award-winning designer explores texture, light and shadow as he recreates the artistic hand of nature – his designed surface mimicking the natural contours on the earth's surface left by winds, when snow drifts and sand dunes are created.
The installation consists of three thousand (100mm x 100mm) bronze-plated hand-made metal boxes of varying depths, suspended by cables from the ceiling of the atrium, in a precisely programmed composition. By varying the depths of the boxes, the designer has allowed light and shadows to cast their patterns on the wall; thus creating a stunning three-dimensional mural.
The project is high on details and subtle elements that wield dramatic effects. For instance, the boxes were first plated, then bent and welded to create hollow box forms. Three depths of boxes were composed so that three different levels of shadow would ensue. "The thinner ones allow more light to sit around them, while the deeper ones create a greater shadow. This subtle difference when applied to the larger artwork allowed us to pixelate an image just as if we were using traditional colour pixels, but the effect is much more subtle and beautiful as a result," explains Giles.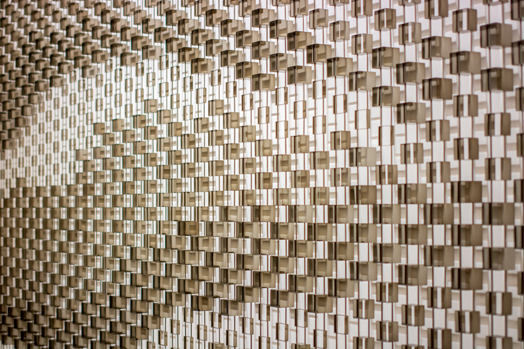 .
Like all of their surfaces and projects, the studio was interested in the manipulation of light and shadow to create subtle imagery. As a starting point for their artistic input, they took inspiration from the famous shopping district Majid al Futtaim in Dubai and referenced the contradictory environment of the sand drifts and snow drifts with aplomb through a play of chiaroscuro elements.