Photography: Courtesy the Architects
A single element of design, thoughtfully engineered, becomes the high point of connectivity on diverse platforms in this dentist's clinic...
Picture this: a spacious area located in a hi-end, buzzing retail district in Sydney, was to be designed into a state-of-the-art dental clinic! Well, here's the catch – it had to have two separate entrances with receptions, without compromising on the spatial factor or their relationship with the passersby; and, there was an eye-sore cannot-do-away-with structural column right in the middle of this proposed ensemble!
For Pedra Silva Architects, who were to design this fit-out, "the aesthetic is always a clear response to problem solving"; consequently, by deploying the camouflage principle, they turned the structural column into the highlight of the project.
.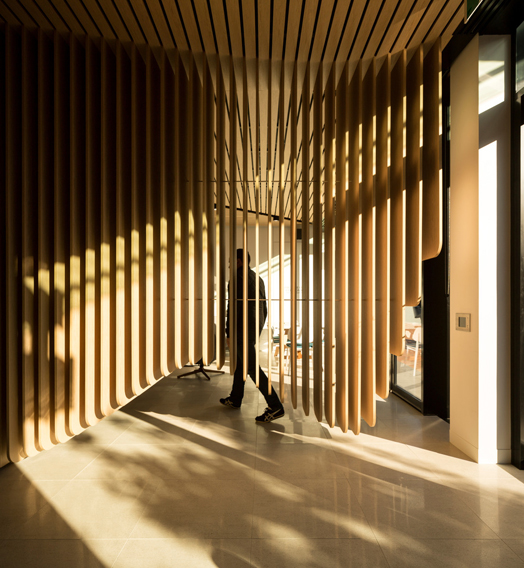 .
So, Care Dentistry holds two unimpeded welcoming spaces with comfortable waiting lounges – one for general dentistry and the other for dental implant practice; beautifully segregated by a partially see-through fluid sculptural wooden element that serves as an eye-catching interior element intriguing the passersby; and a filter between the two areas.
.
Built from suspended wooden planks that start with narrow elements widening to engulf the existing column, this pseudo-ambulating partition is not only the predominant functional element that works as a space generator; but also succeeds in influencing the rest of the interiors.
Arranged around a central corridor that houses a transparent central glass core ushering in ample natural light, are the essentials - from examination areas, surgeries, client areas to technical spaces. A technical highlight pleasantly surprises in the form of a highly advanced 'main surgery' area that hosts complex dental surgeries and is equipped to share them live via an observation room, situated at a higher level.
The design - simple yet exceptional - admirably packages the technical excellence of the project!