The proposed transformation of Seoul's 938 metre section of elevated highway into public space transcends its function as a mere public space to a meaningful giving-back to society...
Many viaducts and pedestrian overpasses in Asian cities are purely functional elements, but due to the scale of the Seoul Station Overpass, which was built for vehicle traffic, an opportunity exists to create a unique public space in the heart of Seoul.
The Seoul Skygarden, MVRDV's proposal for the 938 metre long former elevated highway next to Seoul's Central Station, hopes to build on the city's ambition to be greener, more attractive and more user-friendly so as to inspire a process of change for the entire neighborhood.
Working on a modular and adaptable approach, architectural firm MVRDV's design creates a library of local plants, a Korean arboretum of species planted in 'neighbourhoods' and arranged along the 938 metre length of the Station Overpass according to their names in the Korean alphabet. In addition to the circular plant pots of varying sizes, a series of customizable activators such as tea cafés, flower shops, street markets, libraries and greenhouses will provide a catalogue of elements, which will enliven the Seoul Skygarden.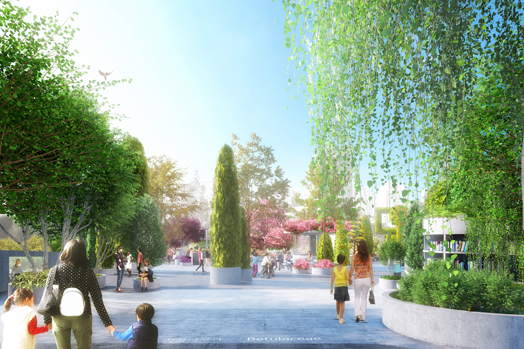 .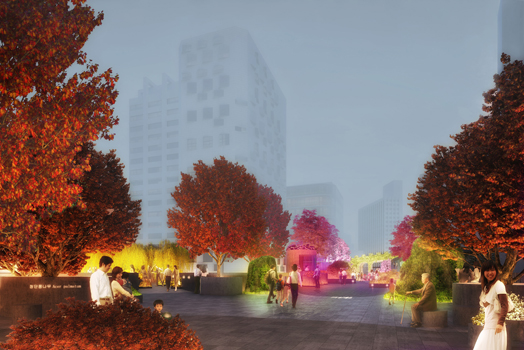 .
In the future, the overpass will evolve with new plants and new activators so as to become an 'urban nursery', rearing trees for the surrounding districts. Additional structures of stairs, lifts and escalators as well as new 'satellite' gardens, can connect to the Skygarden, sprouting like branches from the existing structural piers. These extensions can inspire further additions to the area's greenery and public spaces, and will connect the Skygarden to its surroundings, both, physically and visually through plant species related to each of the neighbourhoods. These neighbourhoods will make the Skygarden easy to navigate due to their alphabetical order and consistent signage, as well as the clear differentiation between plant species in each cluster, giving a unique character to each space.