Photography: Courtesy Architect Kidd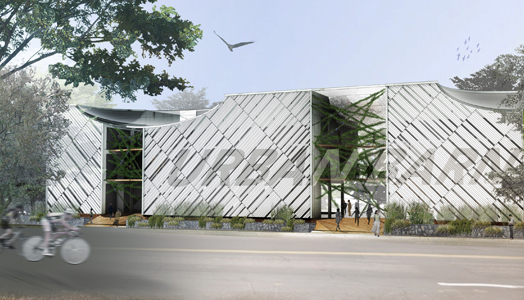 .
Holcim Silver Awards 2011 Asia Pacific winner - Urban Farm Urban Barn is a concept that integrates agricultural beds, commercial area and community market to rejuvenate a deteriorated urban environment.
Working towards improving urbanity and urban environs, Isavaret Tamonut of TTH Trading Co. along with Architect Kidd's team and Thailand's pioneer in ecological design and project consultant Dr. Singh Intrachooto, have re-interpreted a commercial space in Bangkok, reintegrating innovative irrigation methods, a green supermarket, waste treatment facilities, cafes and markets – in short, an urban farming system - to bridge the gap between production and consumption of organic produce.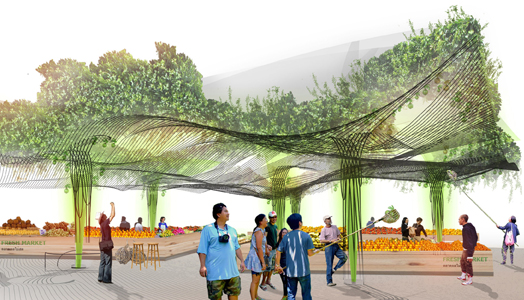 .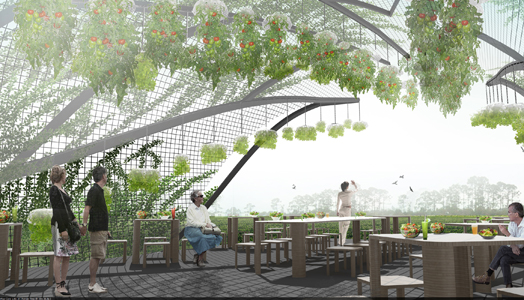 .
Set on an abandoned farmland within an operational textile factory in Ratchaburna near the Chao Phraya River, the once fertile area with coconut trees, banana plantations, vegetables, fresh water fish and fireflies, now lies in a state of deterioration with clogged and odorous canals. The concept, when realised, aims to bring back the natural flow of the underutilised area and its waterways by cleaning, recycling and storing water to support cultivation. It will also provide a heat sink for the densely populated Thai capital.
.
Located under the shade of a foliage-wrapped roof nourished by a dripping irrigation system, the farm holds a dining pavilion, suspended vegetable garden, mushroom cellar and workshop space. Diners and students will not only enjoy fresh, organic produce, but will also learn about green farming, thanks to the local farmers who, in turn, benefit from this job.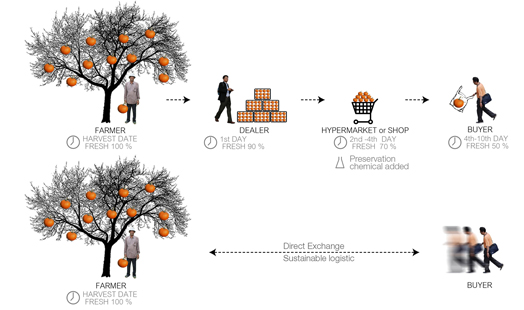 .
.
A coated fabric and woven bamboo pavilion encases passion fruit creepers, drip irrigated by a water harvesting tube. Vertical steel meshes support the clockwise and anti-clockwise upward spiral growth of the plants that intersect in the Fibonacci Ratio; effectively reducing the gap between production and consumption of fresh produce.
.
Flowers and vines irrigated through harvested rainwater pods atop the barn purify the air besides beautifying the low-maintenance structure. While scrap metal railings bring in ample sunlight, decks crafted from recycled plastic, vinyl and wood add to the eco-friendly appeal.
A waste system integrated in the Urban Market, Urban Barn, Urban Kitchen and existing textile factory provides locals with organic wet and dry fertilisers in return for their composted garbage; methane for cooking; and effective micro-organisms for cleaning of toilets and kitchens.
While the concept proposes a well-researched win-win, it is bogged by constant challenges, the biggest, says Dr. Singh, is making a break-though in the traditional mindset. He adds that while the project has gone through the marketing phase, economic and political instability in Thailand might just make this project tough to actualise.