Compiled by Team IAnD
Photography: Stephane Julliard; courtesy the architect
Emma Donnersberg Interiors and Michel Amar design Hotel Royal in Saint Germain, Paris, marrying classicism of the 1950's with eclecticism of the 2000s!
Royal accents are beautifully interwoven in the simple yet chic design sensibilities of the Hotel Royal as the designers have picked on the tried-and-tested to build their statement of design.
With black as the cutting-edge colour that anoints the flooring in black-and-white checkered pattern, reminiscent of yonder, to its application in wall paneling and table accents, the interiors are the epitome of understated luxury – the kind that is a given; rather than adopted.
Gold, beige and other tonal variations of umber and copper are seen in the furniture and wall coverings, leading to a spacious and open feel. Complementing the palette are the soft contours of the furniture and wallpaper. The juxtaposition of the straight-lined space with its softly rounded ambience comes across strongly, as Emma culls out the beauty, comfort and elegance of the space.
The result is a softly beckoning, stylized space that encourages cosy get-togethers. The designers reject the formal prim approach to hotel design and opt for a luxuriant, lounge-y, clubhouse feel, where spaces are composed as contemporary picture-perfect frames, graceful and arty. Incidentally, the simple act of a wall covered with a Moroccan rug and another simulating a garden with its painting of abstract clear leaves speaks of the heightened aesthetic sensibilities of the designer.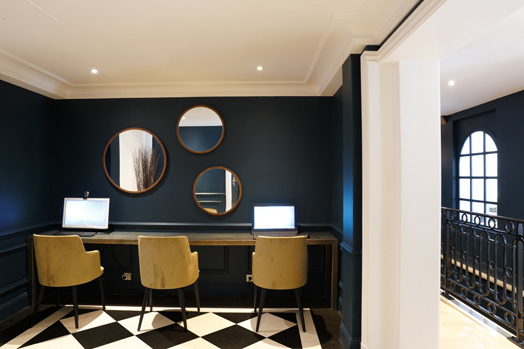 .
Emma Donnersberg approaches design as if she were painting a blank canvas, using spatial organization and an array of colours and textures to generate the highest level of luxury. Emma's aesthetic has developed through her countless worldwide travels and each design project includes unique aspects of her Asian, American, Eastern and European experiences.