Photography: Jairo Trimeloni; courtesy AlbertoApostoli
Ar. Alberto Apostoli's design of Hotel Consolini on the shores of Lake Garda in northern Italy has him translating idiosyncratic features of 10 Italian public figures into suite themes.
Recognized as among the most influential designers in the wellness world on a national front, Italian architect Alberto Apostoli's practice is known for the strategic fusion of architecture, interior design and operative marketing, making for several success stories.
Suite Giulio Cesare: Overall simplicity adorned by colours gray stone and beige opposed to red and
pink - colours of winners in late Republican Rome
Naval classical furnishings, nautical charts, typical travel time paraphernalia… dedicated to Genoese
navigator and explorer Christopher Columbus
Passionate as he is about design, Alberto has been careful that the famous personalities picked (Roman Gaius Julius Caesar, the great poet Dante Alighieri, the Venetian Marco Polo and Giacomo Casanova, the great explorer from Genoa Cristofolo Colombo, the Italian director Federico by definition Fellini, tenor Luciano Pavarotti, the étoile Carla Fracci, the absolute genius Leonardo Da Vinci and the Drake Enzo Ferrari) have been based on a discerning selection of identifiable true popularity and recognizability.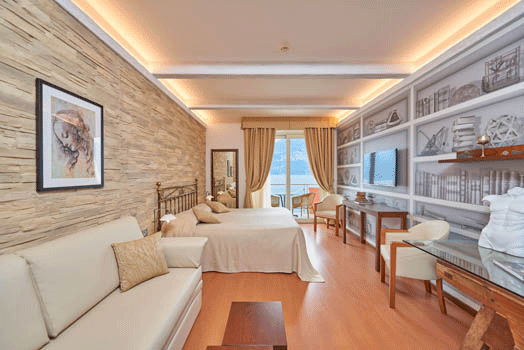 "
Renaissance workshop" thematic for the genius of Leonardo da Vinci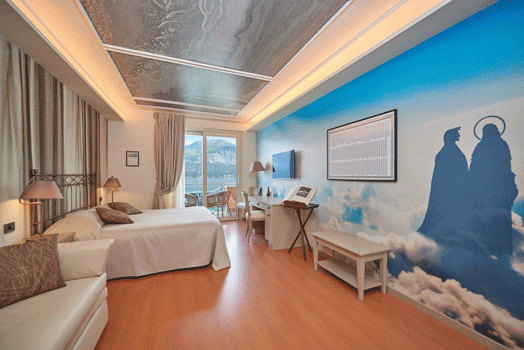 To the great poet Dante is referenced an ethereal place with a strong evocative character -atmosphere 'Paradise'
Enjoying the process, he has consciously meted out 10 distinct suites, where one can resonate with the spirit of the character via subtle forms, and a measured use of surfaces, colours and materials. Excessive overtures towards making a statement of sorts, or reducing the game to elements of kitsch on the other end of the scale, are visibly out of sight. Instead a studied customization is apparent in the objets d'art, the details of finishes, lighting, soft furnishings, and the vertical surfaces that are covered with special paper, images printed on PVC but specifically created or structured material surfaces.


Suite Federico Fellini speaks of the great director and the magical world of entertainment with
original film posters, 'director' chair, theme-based décor and finishes
Absolute white dominates the Carla Fracci suite. The wooden bar, mirror typical of classic ballrooms,
iron headboard and white wallpaper with angel wings and white petals constitute the iconic objects here
More conceptual than literal, as it should ideally be, Alberto speaks of the project with fondness and fun, where he comments on the richness of the research involved in the creative process that made it doubly satisfying and perhaps will contribute to the guest experience too- whether Italian or foreigner in gaining an insight into a piece of Italian heritage and history and all in a manner, atypical and imaginative!
Luciano Pavarotti has red, beige and gold dominating space, everything points to
creation of an important and somewhat opulent world of the "bel canto" references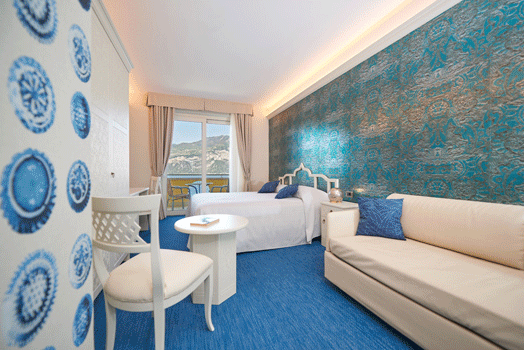 Marco Polo involves finishes and surfaces Oriental and Byzantine
as wallpaper semi-gloss or decorative designs for furniture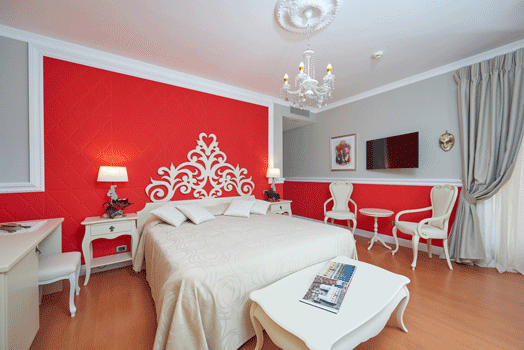 Rather than explicit references to late Baroque Venice 700, Giacomo Casanova opts for
furniture with white frames and wainscoting in red fabric; original objects decorate the suite
One cannot help but recall, at this juncture, the scores of differently conceptualized hotels and hotel suites that lure visitors from all corners of the world. The variety and tenacity of the thematic in the hospitality industry just goes to prove the power of design, yet again.