Photography: Courtesy ZHA
Here's a fitting tribute to adventurous and successful mountaineers – a symbolic built form hung over the precipice imbuing the very essence of the hazardous sport – and designed by none other than Ar. Zaha Hadid.
Embedded within the summit of Mount Kronplatz, 2,275m above sea level at the centre South Tyrol's most popular ski resort, the Messner Mountain Museum Corones is surrounded by the alpine peaks of the Zillertal, Ortler and Dolomites. Established by renowned climber Reinhold Messner, this, the sixth and final Messner Mountain Museum explores the traditions, history and discipline of mountaineering.
Messner, the first person to climb all 14 mountains around the world over 8,000 meters, and the first to climb Mount Everest without the aid of tanked oxygen, conveys his vision for the MMM Corones: "Kronplatz offers views beyond the borders of South Tyrol to all points of the compass and it is from here that I present the development of modern mountaineering and 250 years of progress with regard to the equipment. I speak of triumphs and tragedies on the world's most famous peaks – the Matterhorn, Cerro Torre, K2, and shed light on alpinism with the help of relics, thoughts, works of art and by reflecting the outside mountain backcloth in the interior of MMM Corones."
Informed by the shards of rock and ice of the surrounding landscape, concrete canopies are cast in-situ and rise from the ground to protect the museum's entrance, viewing windows and terrace. The exterior panels are formed from a lighter shade of glass-reinforced fibre concrete and fold within the museum to meet the darker interior panels that have the luster and colouration of anthracite found deep below the surface. A scaffold of steel sections with adjustable brackets to offset tolerances forms the museum's substructure.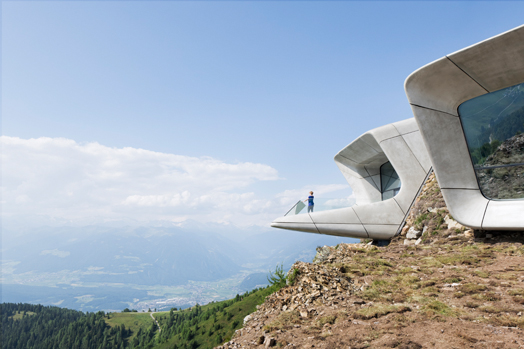 .
A series of staircases, like waterfalls in a mountain stream, cascade through the museum to connect the exhibition spaces and describe visitors' circulation over three levels. At the lowest level, visitors pass the viewing windows as they traverse through the galleries to emerge out onto the terrace that projects 6m from the mountainside giving a 240 degree panorama across the Alps.
.
.
.
At 1,000 square meters, the museum is arranged over several levels to reduce its footprint as wide windows allow natural light to penetrate deep within its interiors.
With 140,000 cubic feet of earth excavated and reappointed over and around the structure, the museum keeps a constant temperature level in both summer and winter and thus is energy-efficient.