Photography:
Chevalier Morales Architectes;courtesy v2com
.
The new
Bibliothèque Saul-Bellow in Montreal is an attractive, luminous 21
st
century building that stimulates conversation and aims at a LEED certification…
Libraries are no longer the pin-drop silent, overly disciplinarian spaces they used to be. A library is a revered institution but alongside it also builds interaction, promotes knowledge sharing and fosters intellectual debate.
Designed by
architects Stephan Chevalier and Sergio Morales of Chevalier Morales Architectes, the 1974 edifice is remodeled on imaging what the library and its neighbourhood could become, in 20 years, if the densification, greening and transportation improvement principles mentioned in the urban plan of Montreal are achieved and implemented.
The firm proposes possible solutions for the year 2031.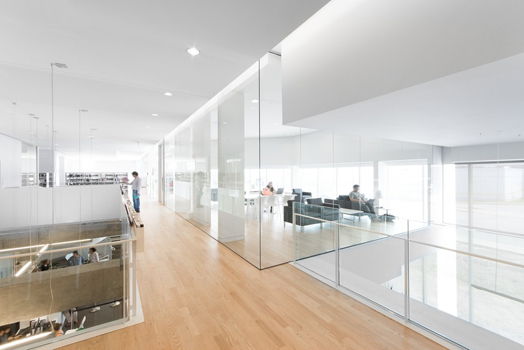 .
.
Imagining possible futures has facilitated the proposition of solutions and certain program functions that, in the long term, would reduce costs and environmental impact, while avoiding a decrease in the quality of the library's spaces. Development across the project area of 2650 sq. m. integrates a long term vision adding thoroughness and relevance to the proposed design as the design approach seeks to be global and evolutionary; proposing paths to address real societal issues instead of lingering on immediate issues. The 21
st
century library is imagined as a pivot for a dense and dynamic area, where many mixed daily activities occur.
.
It is also imagined that, as an idea store, the library would benefit from neighbouring commercial space traffic by positioning itself in the residents' daily route. The positioning of entrances to the library, with one close to the café, supports this integration with the café designed to make the user's experience complete. It is now possible to eat and drink in all areas of the library. The café's patio extends onto the intersection.
.
.
Although its purpose has quickly evolved in recent years with the arrival of new technologies and the evolution of librarian's traditional roles, the loan counter, greatly reduced in size, remains a focal point of the library as a privileged interaction location. At the bottom of the gentle gradient ramp, in front of the café, close to vertical circulations and to the youth library entrance, the loan counter becomes the ensemble's organizational pivot. It consists of multifunctional and adapted sectors that exude an impression of accessibility and openness.