Compiled by Leah Linhares
Photography: Fany Ducharme; courtesy v2com
Break away from the city's pandemonium and escape into a world of serenity dubbed

Bota Bota Gardens,

an

oasis of relaxation designed

by MU Architecture...
Located in the heart of Old Montreal, Bota Bota Gardens take shape between a major tourist attraction - Bota Bota spa, which is docked at the Port of the Saint-Lawrence River and an elevated railway.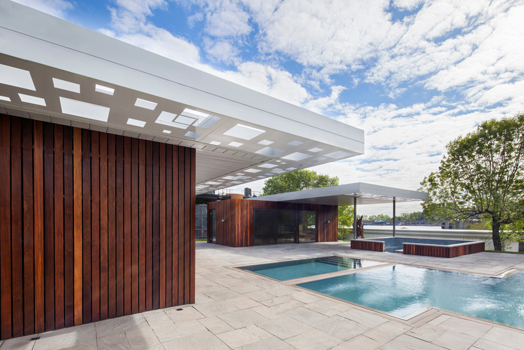 .
Commissioned to design a little haven in the heart of the city, the architects proposed a series of ecofriendly and innovative development concepts that gradually link the boat and the ground consequently granting customers access to the boat.
Playing with the concept of loading docks, the architects used shipping containers as the main element of the construction. Besides being recyclable, they make a good semi-permanent building that allows ease of assembly and disassembly, whilst they compose all the volumes to house different functional spaces viz., relaxation area, steam bath and engine room.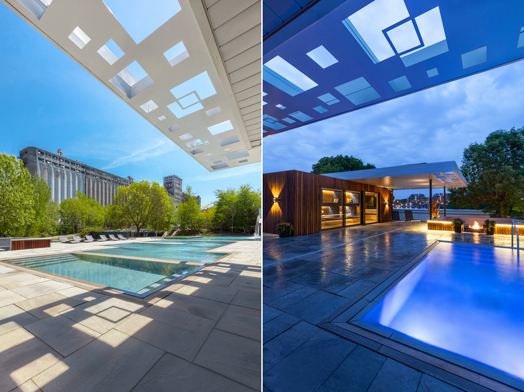 .
The containers greet and direct us to an additional element of the project; revolving around the containers and surrounded by stone pathways, the pool (three individual basins of cold bath, large hot tub and a large pool) is punctuated by rest areas, an outdoor fireplace and a yoga platform. Amazingly, the structure is deliberately chiseled out of a minimum of just three materials – stone for an excavated effect; IPE that is low maintenance and weather resistant and roofs clad with white painted steel panels for a light industrial touch.
Faithful to their

philosophy, the green roofs integrate the project into its environment providing an impressive view from the top of the boat, piquing people's curiosity. Also noteworthy is the pioneering geothermal radiant flooring system that is powered by recovering energy from the waste water from the boat added to water from the St. Lawrence River.
A luxurious modern oasis, Bota Bota Gardens is a sensitive project that fully integrates into its site and takes into account different elements of the immediate environment and historical context.