Complied by Leah Linhares
Photography: courtesy
UArchitects
The Netherlands
What does a building look like when in disuse for half the year?!
UArchitects
respond to specified programmatic requisites with an ingeniously designed built form in The Netherlands…
A dormant looking block on the Nesselande beach positioned on the border between land and water opens up to the summer sun and spring in the air akin to a flower waiting to bloom.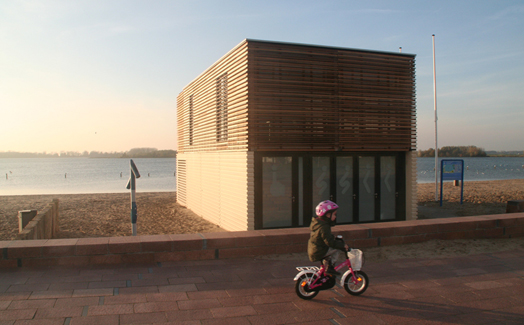 .
Closed for six months of the year, screens move up, doors slide open and flags dance to the tune of the wind at this lifeguard's office on the beach, stationed slightly below the boulevard, the concrete-wood structure resting at eye level with the passersby on the seaside pathway.
.
.
Functionality is an important aspect in any building and for the Lifeguard Nesselande, it is the key aspect, bearing in mind that every second is precious. Therefore the ground floor of the edifice provides all the necessities for the public viz. first aid, rescue boats and public toilets while the first level, which is for lifeguards and police, is open plan and glazed on all facades.
The outer layer of the façade opens into a viewing balcony as a streamlined staircase creates a quick connection between the viewing terrace and the beach. Contextually, the ground floor of prefabricated light yellow-grey concrete complements the beach, whilst the wooden louvres on the first floor complement the concrete; this allows the façade to age gracefully, eventually looking like similar shades of the same colour.
The upper floor can be opened wide; therefore, cooling is solved by the blowing breeze passing through the building. Wooden louvers and the ventilated roof prevents the office from warming up.
The architect firm thus ingeniously culls a solution that works without much ado, both ways - when in use and when not!