Photography:
Adrien Williams & Gorgin S. Fazli; courtesy v2com
Montreal's Studio Practice rejuvenates a condominium from Ar. Moshe Safdie's iconic H67, where each apartment has a one-of-a-kind layout…
Architect Marie-Pierre Auger Bellavance of Studio Practice, equipped with the mandate of renovating a unit that had seen several changes in the past, had to base their renovation from ground zero, especially as absolutely no traces of the original design remained.
Integrating a modern perspective into the strong concrete vocabulary, they opened up the home by replacing concrete walls with glass and creating a transparent fluidity in the interiors.
Applying a decidedly functional and minimal approach, the three prefabricated cubes that made up the original home, are stripped to their raw aesthetic and juxtaposed against white walls and pure spaciousness that is accentuated by the transparency of the glass cubes. Storage is camouflaged into the white envelope.
The black glass, sometimes transparent, sometimes opaque, participates with mirrors to create a superimposition of reflections, as light filters in, in abundance. The panorama so cleverly framed by the windows captures it and we have a living space in which garden, river and city are invited into a private world.
The function of the place speaks bluntly: the library invades an entire wall in the living room; bath and shower overlook the pond. In the kitchen, island and cabinets become volumes in flux. Materials play on the senses, defining spaces in conjunction with the treatment of light. Concrete, so ubiquitous in the complex of Habitat 67, is revealed in selected locations in the unit.
.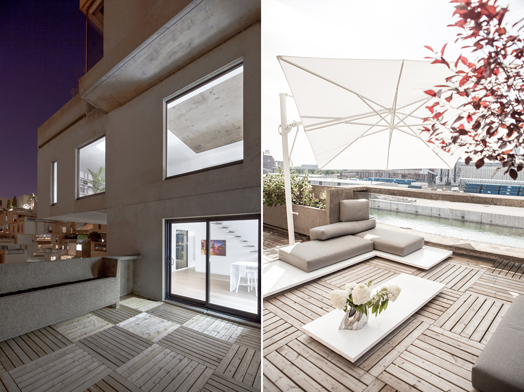 .
The programmatic not only blends in a contemporary lifestyle but opens up the homemakers to two contrasting realities – the excitement of Montreal city life and the languorous calm of the St. Lawrence River flowing close below. The apartment gives the impression of being part of a series of moving cubes, evoking the flow of the river that runs beside this modern day version of hanging gardens.