By Rutvi Ashar
Photography: Courtesy LABVERT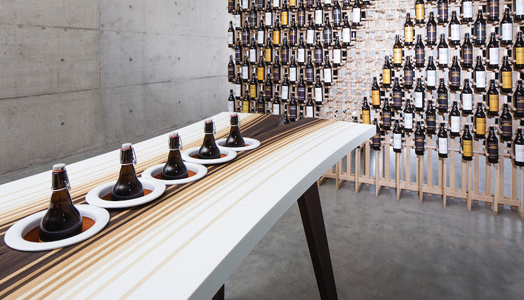 .
Vienna-based architecture and design studio, LABVERT's design of a craft beer brewery makes a 'ceremonial hero' of the product and the experience of gurgling beer!
Known for their expertise in shop design, with success stories the likes of Dior Cosmetics, Hennessy and Chivas, Royal Salute, Ar. Stephan Vary and his team successfully deliver an integrated design solution that adds vigour to a craft beer bar - its tasting table and storage installation, both inspired from the product and its method of fermentation!
.
Strategically designed to accommodate features of the product viz. the white colour of the curved bar table top gives impetus to the colour of the beer; the clay coolers elevate the presentation of the bottles and the dynamic form of the table directs your eye to an exquisitely designed storage installation that dominates the space.
.
.
The free standing storage shelves made of oak planks are designed to primarily keep the bottles vertical; at the same time this geometric display supports the five varieties of beer as well as the beer glasses exclusively designed by LABVERT.
.
The design strikes a perfect balance between shop design and product design, two areas in which LABVERT excels. The novel ideas that this studio brings to the table have been appreciated by their international clients and this project does no different.