Complied by Leah Linhares
Photography: courtesy the architects
.
The king of oil reserve Saudi Arabia
is gearing up to become the king of the world's most high-tech super tall building with its upcoming
skyscraper -
Capital Market Authority (CMA) Tower.
Rising to a magnificent 1,263 feet in the

capital and main financial hub- Riyadh,

the CMA tower is designed by world renowned architectural firm HOK in collaboration with Omrania & Associates.
.
Set to open in 2017, the 80 storey tower will be marked as the centrepiece and the tallest structure within the King Abdullah Financial District, positioning Riyadh as the financial and economic centre of the Middle East with its top floors serving as the CMA headquarters, the government organization responsible for regulating Saudi Arabia's capital markets.
The mega structure's intriguing exterior: a crystalline façade - is fashioned with indication of the crystals found in wadis - dry ravines located in the desert - providing transparency that creates an open grid and provides access to natural light within the office tower.
.
Built with an aim to achieve LEED Gold certification, the tower possesses a high-performance enclosure that incorporates solar shading, photovoltaic solar collection, facade lighting and an innovative facade access system. This integrated solution reinforces the overall building design and geometry, while minimizing solar gain and internal cooling loads and reducing HVAC requirements. Energy is reclaimed through a photovoltaic array installation on the tower's roof.
Sophisticated technological services not only drape the outside but the inland structure as well. An innovative vertical transportation system integrates one of the world's largest installations of the TWIN® elevator system with double-deck shuttles. Two elevator cabs travel independently -one above the other - in the same shaft.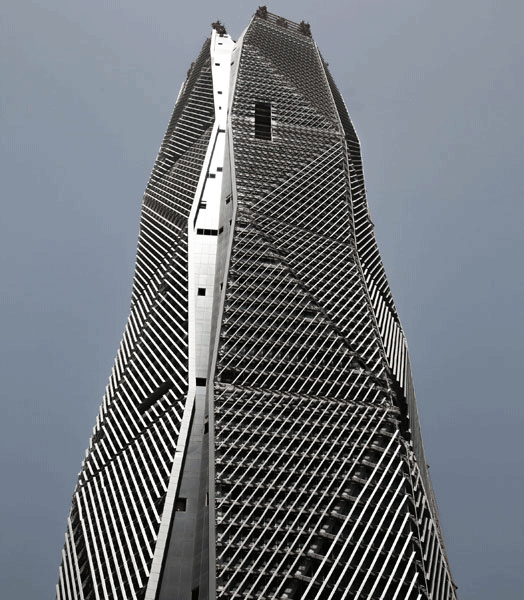 .
The modular plan of the edifice creates a highly efficient interior environment with clear-span floor plates that maintain flexibility and adaptability across every level of the structure; combining public circulation and private amenity space. The podium structure at the base includes an auditorium, cafeteria and two-story atrium.
.
A mixed-use development that creates for a world-class built form, the iconic geometry of the building will greatly contribute to accentuating the beauty of Riyadh's skyline.