Compiled by Team IAnD; info courtesy: Veech x Veech
Photography: Courtesy Veech x Veech
Benchmarking the challenges of high-definition broadcasting, architects-designers Veech x Veech break new ground with Vienna's new ORF Sports Studio…
Austrian Broadcasting Corporation's new multifunctional sports studio pushes the boundaries of seamless integration of media technology to create a high-resolution, luminous space.
Broadcast design experts Veech x Veech have created an overall visual identity for the flagship studio, making it flexible enough to incorporate the multiple identities of the individual programs with ease.
"The primary challenge was the resolution of the image, which required a totally new approach to the design of the on-air spaces," inform the architects. The design team has sculpted the space with light and media content to achieve maximum benefit of the overall spatial resolution required for HD. In addition to the standard studio lighting, there are seven different primary lighting surfaces, each of which is either pre-programmed in various modes or responds to changes in other sources with various effects – soft or diffused, direct or indirect, vibrant or reflective, animated or ambient – resulting in overall luminous, highly articulated spaces.
The differentiation of the various program formats within the overall visual identity is accomplished by means of a combination of elements: a dynamic background, consisting of an ensemble of forty curved, 3D, two-toned louvres reflects and refracts the full-scale rear-projected LED media installations, creating a dynamic sculptural plasticity and depth that is accentuated in each individual program by colour branding and sliding elements integrated into the perimeter wall. The sophisticated, meticulously choreographed and pre-programmed LED lighting enables flexibility in the fine tuning of spatial luminosity and the definition of studio depth perception.
The scheme features ground-breaking media technology, including, as a centrepiece, a curved, 1.8 x 6.5 m, high-resolution LED wall with a 1.6 mm pixel pitch, delivering high performance images and video quality captured from all camera angles. The dynamically-shaped central presenter desk incorporates up to four persons. Above this main presentation island, hovers a large-scale, ceiling lighting element that reinforces the perspective definition.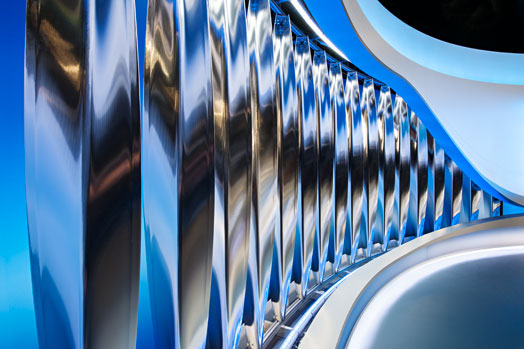 .
The 200 sq. m. studio accomplishes a design-perfect synergy between information and emotion in the form of a future-oriented ambience capable of communicating the dynamic intensity of today's sports.