Photography: Courtesy Ewout Huibers
.
Concrete Architectural Associates, Amsterdam wins Berlin Embassy's Finest Interior Award, 2015 for their out-of-the-box concept of Bijenkorf Eindhoven's unrestaurant-like eating place, aptly christened Kitchen...
Designing the second in their chain of Kitchen restaurants, Concrete has been inspired from the Bijenkorf department store's architectural design by Ar. Gio Ponti, and the way the exterior blends into the restaurant interiors.
Playing on the dynamics of optically illusory gravity, the area is dominated by three marble-clad floating kitchen islands and a backdrop that is akin to kitchen shelving replete with product niches. Each island has a transparent base

showcasing the function inside. offset by flooring of black, and dark honed Belgian hard stone and the Bijenkorf signature hexagonal wooden flooring; this is counterbalanced by a heavy top, emphasized by expressive colours, materials and the building's iconic windows, with each

copper-tiled island hood anointed with product niches that define the type of world cuisine available.
Following the island footprint, the bar and cash counter constitutes the fourth island, much closer to the seating areas, which are zoned to suit various moods: high stools closer to the bar; library-like seating with feature lighting

(signature custom-made library armatures by Piet Hein Eek)

; relaxed living room seating; a couple of alcove sofas and

brasserie benches upholstered with green leather cushions. Added to this is a show kitchen, demarcated by the signature stainless steel Bijenkorf cabinet, with prospects of being rented out privately for events.
.
.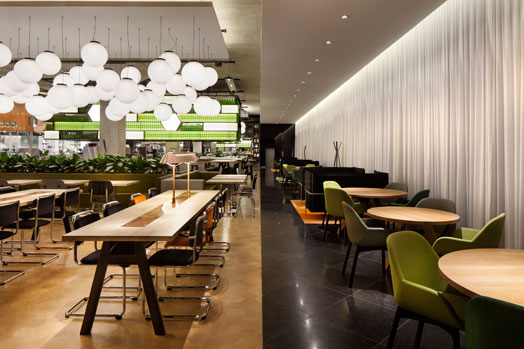 .
A gravitational juxtaposition of sorts is effected in the brasserie seating, where 64 large, white, individually-dimmable light orbs, programmable to effect morning, afternoon and evening settings float above the benches, culling out a statement space in the Kitchen. A well-defined play of lighting both, cove and spot lights complemented by the striking and rather intriguing installation of 2500 illuminated green wine bottles that make up the hood of the Bar Island ascribes to the varying ambiences that the restaurant can cater to.