Complied by Leah Linhares
Photography: Courtesy V2com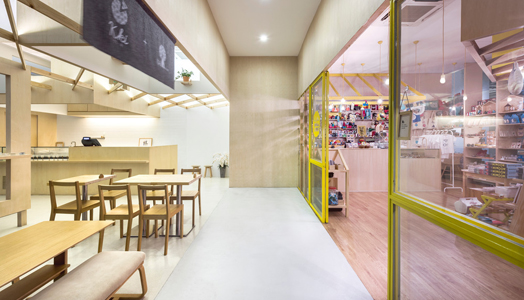 .
Renowned national pre-tertiary specialized arts school - School of the Arts (SOTA) at Singapore oozes creativity with two novelty stores - Kki Sweets: Japanese-inspired French mousse cakes and The Little Dröm Store: art and design driven knick-knacks…
Faced with a challenge to create an appropriate work that meets the standards of the award-winning building and something new despite the influence of such a commanding piece of architecture; Produce Workshop Pvt Ltd has resorted to American literary critic Harold Bloom's methods of 'Daemonisation' and 'Apophrades' from his book 'Anxiety of Influence'.
With a simple design brief - the two brands share a store front, whilst they retain their distinctive identities and yet, not look like two completely separate entities – the architects tapped into the deep structure of SOTA, seeking not only to devise an alternative interpretation of the building typology but to provide a diagram from which SOTA can be read; the result was a shop space for Kki Sweets and The Little Dröm Store that played on the SOTA building's most essential diagram – a datum plane and the volumes that it segregates.
Designed as a porous trellis, the datum plane inside the shop can be observed and experienced from within. The volumes above the plane in Kki Sweets' section hints at the imaginary, while the volumes below are adapted to practical requirements of eating and merchandising, forming tables and shelves, intimate interiors, and close-knitted exteriors.
Contrarily, this plane continues into The Little Dröm Store but instead of forming voids, it occupies a volume that forms the floor of a "tree house".
The datum plane linking the two shops at a higher level, shows them as separate and independent entities on the ground; they can be seen as occupying an open space while separated by an "internal street" leading in from the main door. This street-like space extends into Kki, meandering between the volumes of rooms.
Complementing this well-planned layout are the primary materials - maple veneered plywood for the volumes and solid pine strips for the trellis. Their light colour allows the structure to act like a blank canvas on which the two shops can fill with colours their variety of products. This also helps contrast with the darker colours of the SOTA atrium.
It is little wonder then that this project is a proud recipient of the award for Retail Category of the INSIDE World Festival of Interiors 2015, which was held alongside the World Architecture Festival 2015.