Info & Images: Courtesy gmp Architects
gmp Architects rise to the demanding design challenge of the conversion and refurbishment of Ludwigspark Stadium in Saarbrücken and hope to wrap up the project by 2017!
The architects von Gerkan, Marg and Partners (Aachen), in a design consortium with the Stuttgart consulting engineers schlaich bergermann and partners, have been commissioned with the conversion and refurbishment of Ludwigspark Stadium in Saarbrücken. The start of construction has been scheduled for the spring of 2016, and completion for the summer of 2017.
In contrast to the new construction of large international sports venues with their own commanding presence, the task in Saarbrücken is to strengthen the local identity with appropriate means.
The plan is to upgrade the stadium - which is showing signs of its age - in readiness for future football events. In order to comply with the requirements for a modern second league football stadium in accordance with the German Football League (DFL) standards, gmp Architects have honed the existing stadium elements, dividing them into four sectors: the main circulation level will be created at a height of 7.70 m, which results from the existing topography of the stadium terrain. Three of the four grandstands are redesigned, thereby optimizing the sight lines and moving them to within 8.50 m to 10 m of the edge of the pitch. This helps to create the atmosphere typical of football events, which results from intensive interaction between fans and players.
The new construction of the grandstand to the south is of special importance within the modernization concept as it integrates special functions of the stadium in the central tract with team, VIP, business and press facilities, and in future will serve as the 'new address' of the Ludwigspark Stadium!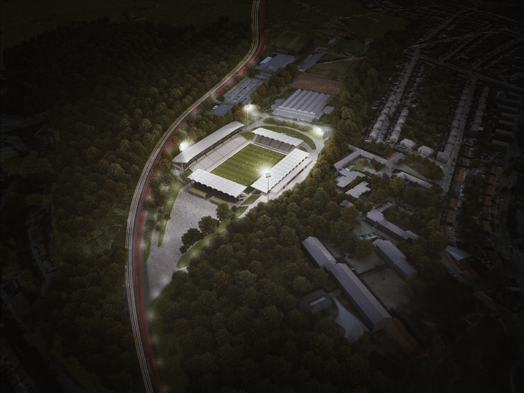 .
Not only for reasons of economy, but also in order to strengthen the local identity of the venue, the floodlight masts, which – particularly at night – are visible from afar and highlight the stadium within its wooded surroundings, and Victor's Grandstand to the north of the stadium with its large roof, are retained as landmarks. The dominant impression given by these features is balanced by the conspicuous white membrane roofs, a unifying feature of the new grandstand buildings. These textile elements of the individual buildings form a visual ensemble, even though the grandstands leave the corners of the stadium open in order to afford the spectators views into the wooded surroundings from the inside of the stadium, thus creating a sense of openness and weightlessness.