Complied by Leah Linhares
Photography: Hypothesis; courtesy V2com
Hypothesis' adaptive reuse project - Vivarium brought home victory with their recent win at the INSIDE Award 2015!
Applying the terrarium typology to an adaptive reuse program, young Thai design agency, Vivarium, has turned an industrial warehouse into an upbeat restaurant program in Bangkok.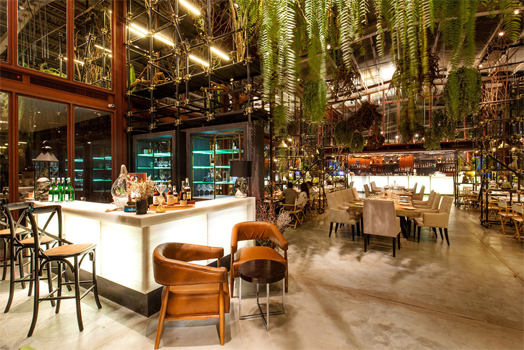 .
.
Carefully preserving the project's contextual history while creating dialectics between the 'old' and the 'new' and minimizing the project's construction cost, majority of the existing 652 sq. m. industrial warehouse is left unchanged but delineated from the new via distinguishing finishing colours; the old parts retaining their original white colour, whilst new additions are painted with red rust protection primer – accentuating the obvious contrast.
.
.
Aiming to inject life and energy into the warehouse for the new restaurant program, inspiration is sought from the miniature green house terrarium! Lush green-scape of hanging plants occupy the upper volume of the double height space, whilst ceramic follies designed by Yarnnakarn Art and Craft Studio are placed around the restaurant adding to the intricacy and lushness of the interior landscape – counterbalancing the rustic industrial setting.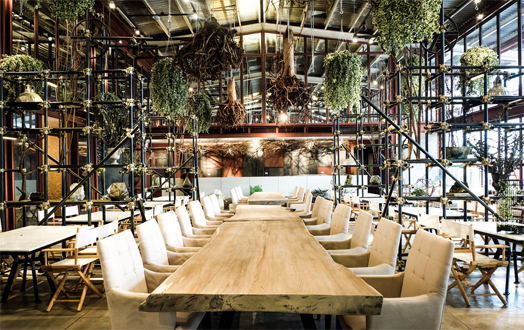 .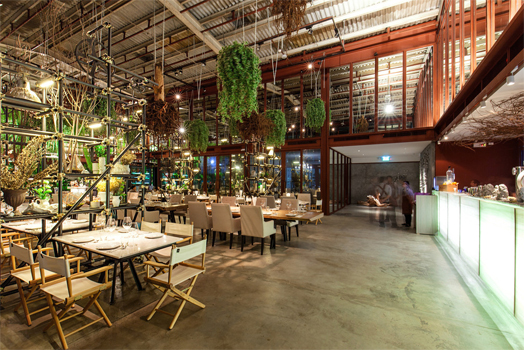 .
To minimize the renovation budget, Hypothesis employs found objects from around the site like iron doors, steel pipes, dead branches and tree roots as decorative interior elements as well as used scaffolding structures as decorative shelves within the restaurant space.
.
.
The design and thematic thus reflects in the name, Vivarium – a container of life. It has rightfully bagged the INSIDE award in the bars and restaurants category, conferred at the INSIDE World Festival of Interiors in Singapore.