Photography: Dirk Lindner; courtesy the architect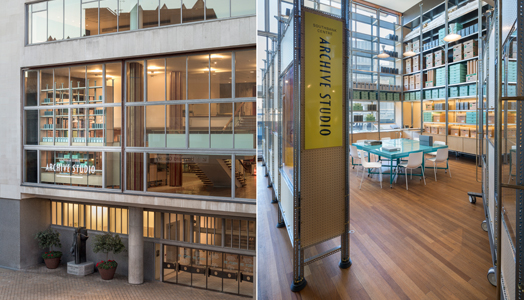 .
The Archive Studio located within

Grade I

listed Royal Festival Hall building (1951), may well set a precedent to facilitating exciting, live encounters with one's archives. Ar. Jonathan Tuckey, the brain behind the project, enlightens...
Located within London's Southbank Centre, it was important that the Archive Studio should be contextually rooted as an addition to the heritage structure; yet, feel like it completely belongs to The Festival Hall. We also had to create something that was affordable and expedient to construct. We opted for what are very standardised elements that, when used imaginatively, create a distinct space with their own identity; yet are not costly to source and could be built in only three weeks.
Our "kit of parts" was made of a free-standing, self-supporting structure held together with polished brass nuts and bolts and clad in perforated cardboard. This framework, when strategically lit offers an ideal backdrop for doing what it was meant to do: bring to life rarely seen documents and artefacts from the Southbank Centre Archive. The space works equally well for researchers as school groups and other visitors interested in a first-hand study of the Southbank Centre Archive's collection..
There are many cultural institutions around the world with impressive collections and items in storage that seldom see the light of day. Storage in itself is becoming a thematic that curators are exploring in relation to the very idea of what they exhibit.

The construction of the Archive Studio cleverly references the language of archiving, using materials like Dexion shelving and pale green acid free storage boxes to shape the look and feel of the space.
Christopher Marsden Senior Archivist at Word & Image Department of the Victoria and Albert Museum Archives is also hopeful about the precedent our project has set. He opines that while most publicly-funded archive institutions have improved online access, this could offer an optimum, pragmatic solution.
Judy Willcocks, Head of Museum and Study Collection at Central Saint Martins enthuses, "This model of disrupting traditional relationships and taking the archive to the people rather than hiding it away behind the scenes seems to me to be the future of the archive."
Architect Jonathan Tuckey is one of UK's leading advocates for remodelling and radically transforming old buildings for modern use.