Photography: Courtesy V2com
Van Duong Phu, a masterpiece of architecture, built by Mr. Vuong Hong Sen, a culturist, an academician, and a famous collector of antiques has been revived as a cultural potboiler – a familial showcase of Vietnam's close-knit mixed-family homes…
In Saigon's Ho Chi Minh City, there is a story about Mr. Vuong Hong Sen's deep knowledge of southern Vietnam and his many books about the region. When he died, he wished to preserve his cultural bearings - a wish that has been realized by the new owner of the place, who, inspired by the Van Duong Phu story, cherishes the home as a nurturing pad.
Child-centric, the home is characterized by sloping roofs, courtyards and flowering balconies, dotted with alleys that are filled with blocks in various colours and materials – a place for communication but also a playground for kids; chaotic but rooted in the local cultural overtures!
An interesting juxtaposition of privacy and togetherness prevails as the vertical circulation has several small spaces, intimately suited to one's privacy; yet encouraging familial mingling at the drop of a hat. The alleys act as social spaces, promoting interaction.
Adding distinct charm to the home is the collection of furniture that comes largely from several demolished houses in Saigon. Besides their innate beauty, the old things come with their own stories and reasons for reappearance, weaving warm memories for the new generations.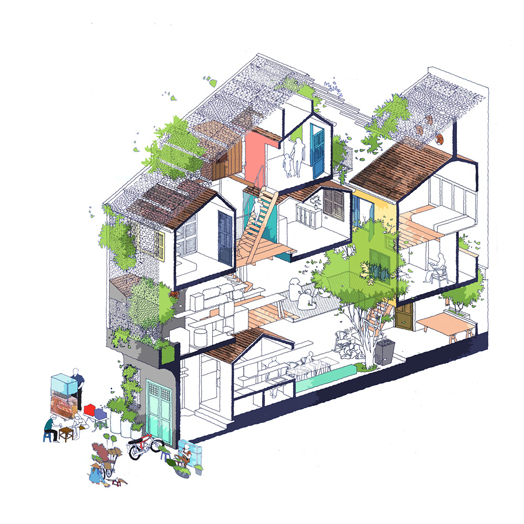 .
The architect and owner laments the disuse of any such home that has lived a rich past and is now in disarray. By reviving the ethos of the lost era, he not only makes for a strong case of local pride for the next generation, but holds a mirror to simple yesteryear practices that fostered familial bonding.