Photography: The First Ferry Photography Team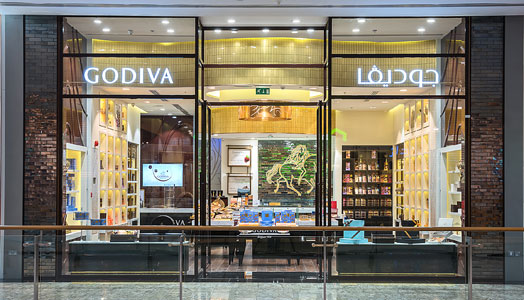 .
Godiva Chocolatier's new flagship at the Mirdif City Centre Mall in Dubai lives up to the grandeur and sumptuousness of the brand...
Eulogising the legendary Lady Godiva and surging with the inherent splendour and shell-moulded design of the chocolates, the plush interiors of the store use the enlarged logo of Lady Godiva as a life-size installation as their starting point.
.
Mounted on a wall of metallic varnished bricks, the installation instantaneously connects with the brand. That the intent of the project was to create a humble design that edifies the story of the brand is adeptly brought forth through the handcrafted and bespoke interior concept and styling.
.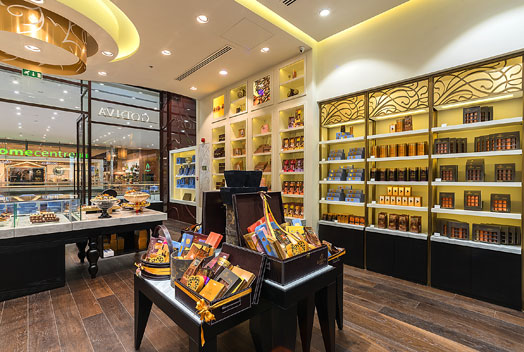 .
Designed by The First Ferry, the 1300 sq. ft. store caters to a mixed display via shelves and table exhibits and is bound in its character by an earthy and rich visual palette that creates an avid desire for the Belgian chocolate. Simultaneously, the exquisite ambience of the store blends smoothly with the aura of the high profile mall it is located in.
.
Chocolaty aura emerges from the wooden parquet floor tiles, selected specifically to proffer the brown of the brand as it blends in with the walls, painted in a tint of beige. Nesting tables are crafted out of wood and finished with POP surfaces; while the shelves sport a faux marble finish to their wooden base with their rear space highlighted with artistic ornamentation - the combination creating a reverential mood around the chocolates placed here. Handcrafted table displays add to the bespoke design.
.
The contour of the faux ceiling, treated with gold-enamelled ceramic tiling over the main counter creates a perception of a highlighted section to direct the customer to. The back-lit ceiling creates a heavenly aura – an emotional tribute to the Godiva chocolates.
.
Besides a thoroughly researched study on product display methods, the design is accomplished with top-quality materials and attention to minute details in the furnishings. The store is manned by just two personnel and is designed to effectively service customers without compromising on product placement.
The First Ferry lives up to creating the expected narrative of individuality, stemming from and defining the brand -
quality ingredients, elegant styling, innovative selection, and beautiful packaging!