Photography: Courtesy the artist
Read Time: 2 mins
Artist Maxwell Rushton's unconventional and thought-provoking installation has confronted people all over the world with a pertinent question: Would you help or move on?
In a world, where boundaries between commercial art and "art for art's sake" are fading away, UK-based artist Maxwell Rushton's mixed medium works not only come as a breath of fresh air, but are often utterly shocking and awe-inspiring in their impact. Take, for instance, his artwork, 'Buy In and Bleed Out' in which he took 'mixed medium' to a whole new level by using around 20 pints of his own blood; or 'Drawn Out' for which he spent 386 days in isolation, drawing lines on four 10m rolls of paper. His latest work, 'Left Out', is no different, with the added impact of coaxing the viewers to look within and question themselves.
A few months ago, people walking the streets of London were confronted with a strange sight - a bin bag that looked as if a person was sitting inside it. Reactions ranged from a passing glance to people trying to rip off the plastic to help this 'human', while few others barely took notice of it. "Seeing others walk past, I hope that frightens people. Then they can ask, 'Who would I be?' and go and prove to themselves that they would be the person who cares," says Rushton in a documentary based on Left Out. The art here then lies in the reactions of the passersby rather than in the object itself.
.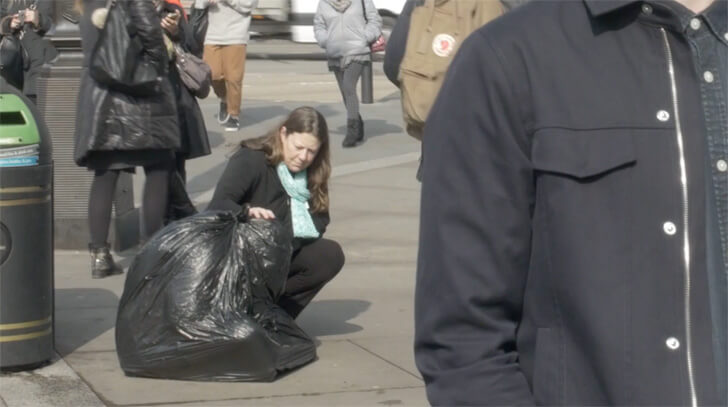 .
.
Intended to sensitize people about the rampant problem of homelessness in the world, the idea of Left Out took root in Rushton's mind last year, when he tripped over a bin bag and spun around to apologize to it, thinking it was a homeless person. The incident changed the way he looked at homelessness, stirring in him dread as well as a curiosity about the perception of destitution among people in general. Left Out, essentially a form of a hunched human figure wrapped inside a bin bag, has been displayed twice on the streets of London, but has evoked a wide range of reactions from people all over the world, with its video garnering more than 10 million views. According to the artist, a particularly interesting insight came from a gentleman in London, who interpreted it as a symbol of how human beings are disposable. An unfortunate but introspective observation!