Photography: Christine Côté&
Emilie Summermatter
; courtesy v2com
Read Time: 2 mins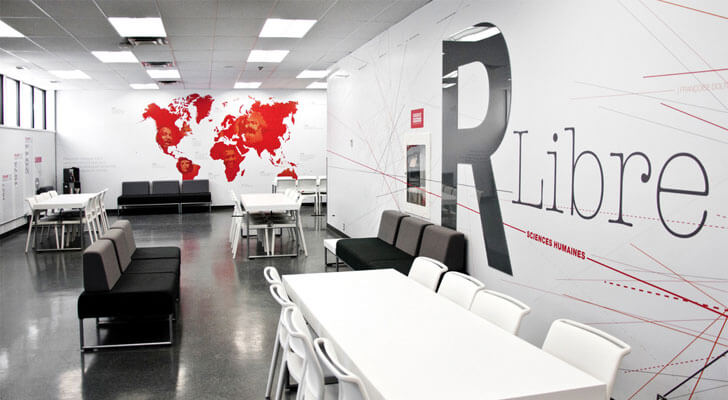 .
Cégep Marie-Victorin, Montreal, fosters an environment to enhance the learning experience with hands-on projects; simultaneously upgrading the institution as a place of innovation...
With a vast student body including designers from different fields, the institute aims at showcasing the artistic flair of its students and faculty through a process of involved innovation. Conceived in 2008, the college has since, implemented several renovation projects on the campus with the help of the students enrolled in their various design programmes, thus giving them an opportunity to engage with professionals as a part of the curriculum.
The most recent works include the R Libre, Revitalisation of the Bélanger building and the Corporate Service Centre, and the Administrative building.
Catering to the students of Humanities, the R Libre is designed as an extension of the classroom. The walls of the student lounge act as a storyboard of events and cultural references, and the omnipresent quotes and visual references create subliminal impressions for the students.
The Bélanger building is an exploration in the field of architectural symbology; as gestures through motifs and shapes denote the academic culture of the institution. While the ubiquitous circular shapes allude to the cyclic process of education, the typographic staircase, with its laser-cut aluminium panels is an indication of the possibilities afforded by technological innovations. The intrepid lighting formulates a space that is not only warm, but also creates an identity for the building.
.
.
The administrative corridor, on the other hand, is a narrow passageway, created as a montage that displays stories of success and focuses on creating an ambience of assimilation for the students and staff. The anthropometrically designed imagery of the corridor enables the user to experience this narrative despite its narrow width.
Window detail as seen from the exterior
.
The intimacy of the inclusive design process by interior designer,
Louise Gélinas
and
graphic design professional and instructor
,
Christine Côté
is thus a reflection of the values of Cégep Marie-Victorin, where paramount importance is given to integrated systems of working.
The project is the most recent recipient of the
Grands Prix du Design 2016
among other laurels.