Read Time: 2 mins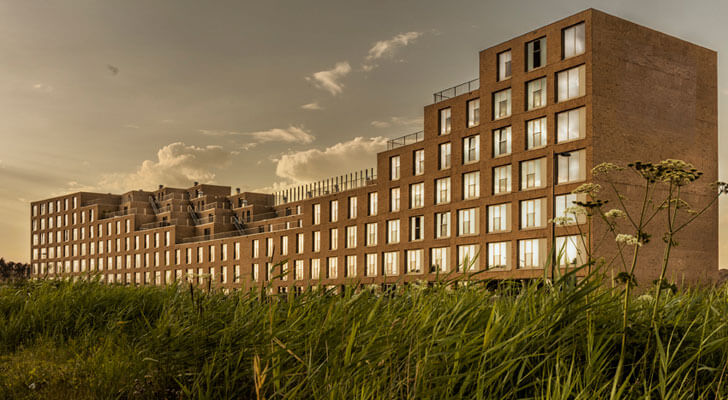 .
Studioninedots designs an interactive student housing block in Zeeburgereiland, Netherlands, to accommodate 364 apartments...
Having the largest student population in Netherlands, the city of Amsterdam has seen a rising need for housing its student population. The newly designed 134 metre long apartment block is located at the gateway to Amsterdam and stands on IJburglaan, the main street that connects the islands of Zeeburgereiland,
Steigereiland
and Harbour Island with one another.
The stepped profile of the building not only enables a collective organisation of interactive spaces, but also lends vibrancy to the building. Although the original orientation of the terraces was directed towards the undisturbed north, the design was later altered through an arrangement of multilateral terrace spaces towards the south facade of the block to much advantage.
The new orientation allows possibilities for a variation in the layout of the apartments and also simultaneously creates fascinating alcoves of shared spaces at different levels. The terraces also act as a buffer between the apartments and the external environment, thus evading problems of noise due to traffic and sheltering against extreme climates.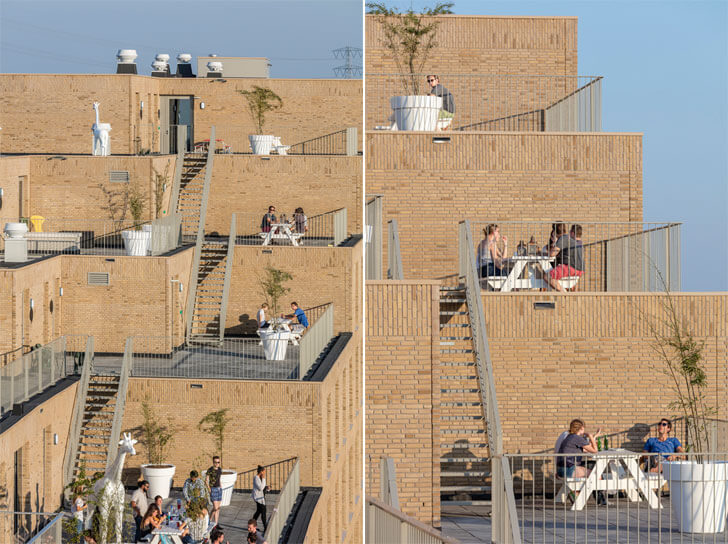 .
.
Accessed via double height glass entrances and varied widths of the brick piers, which are fronted by a row of hollyhock planters, the facade is visually divided into three distinct portions and alludes to a triptych composition.
The stepped configuration in the facades allows for a reduction in scale, which can be read as a sequence of different volumes.
A movement in the form of a "smiley".
Resembling an inverted ziggurat, the Smiley Zeeburgereiland Apartments create a quintessential silhouette in this newly developing part of the city. Studioninedots thus addresses the issues of urban distribution and density by creating spaces of intervention as a means to endorse human exchanges and cultural interfaces, which are, incidentally, emblematic of the city of Amsterdam. The building stands as a Smiling spectacle, which represents the need for confrontations in an urban context.