Photography: Courtesy V2com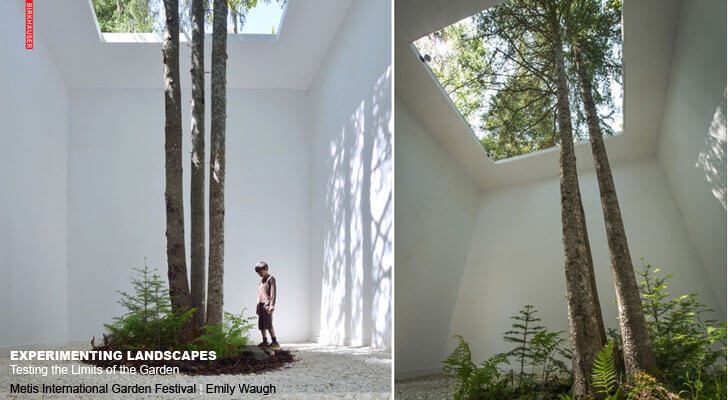 Courtesy of Nature by Johan Selbing and Anouk Vogel, 2013 ©Martin Bond
With this superb publication, author Emily Waugh focuses on the Métis International Garden Festival in Québec, Canada, which has presented more than 150 temporary gardens at the cutting edge of garden design and environmental art since 2000.
Recognised as one of the most important events of its kind in North America and one of the leading annual garden festivals in the world, The International Garden Festival has been a major tourist attraction over the years. Its newest book – 'Experimenting Landscapes: Testing the Limits of the Garden' captures for posterity the artistic endeavours of select 25 professionals from visual arts, architecture, design, and landscape design, endorsing the synergies that come together annually to celebrate landscape design on a knowledge-sharing and research platform.
Aerial view of the International Garden Festival 2016 ©Pierre Lahoud
Round Up (d'après Monet) by Legge Lewis Legge, 2008©Robert Baronet
Despite its remote location, the Festival has attracted more than 1 million visitors to experience the work of both emerging design practices and renowned designers such as Diana Balmori, Claude Cormier, Ken Smith, Snøhetta, Topotek 1 and Michael Van Valkenburgh.
Sacré potager de Atelier Barda, 2013©Atelier Barda
Dymaxion Sleep by Jane Hutton and Adrian Blackwell, 2009©Robert Baronet
Viewed as a significant laboratory for landscape designers to experiment with materials, methods, and design concepts that can potentially be adapted to their larger urban works, the essence of the festival is brought to light via the selection of projects as well as essays by landscape critic Tim Richardson, landscape architect Marc Hallé and reflections from festival designers that explore how the garden can challenge our assumptions, provide new meanings, and change how we see even the most familiar things.
Around-About by Talmon Biran architecture studio, 2015©Louise Tanguay
Le jardin de la connaissance by 100Landschaftsarchitektur and Rodney LaTourelle, 2010 ©Rodney LaTourelle
Being presented by Basel-based international publisher, Birkhäuser, the book sensitively captures the ethos of landscape architecture, ably put into perspective by Emily Waugh, who is backed by her thorough knowledge of the subject with several other books to her credit.
Core Sample by North Design Office, 2006 ©Louise Tanguay
Being launched today (Nov. 10, 2016) at Les Jardins de Métis / Reford Gardens and venues in Montreal, Ottawa, Quebec City and Toronto, it is essential reading for anyone practicing in the field of landscape, installation art or in place-making in urban and rural environments.
I
t is available at bookstores in Canada for a special launch price of $60 CAN ($50 each for 2 copies or more).