Compiled by Team IAnD
Renders & Sketches: Courtesy Carlo Ratti Associati
Read Time: 2 mins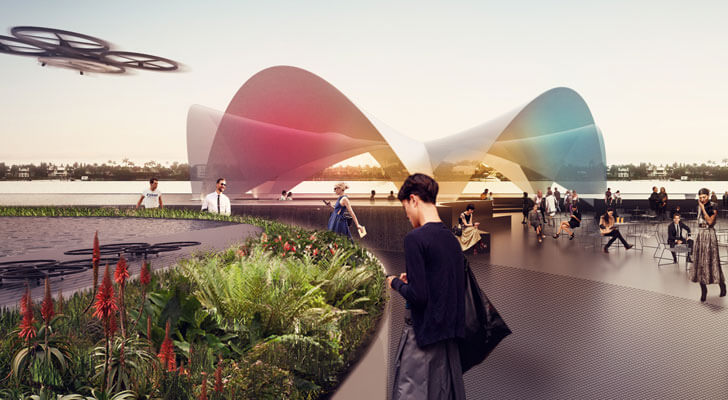 .
Carlo Ratti Associati pioneers use of submarine technologies to design floating plaza as part of West Palm Beach' new Currie Park waterfront…
International design and innovation office Carlo Ratti Associati has unveiled the design of a master plan for the Currie Park waterfront of West Palm Beach, Florida, featuring a one-of-a-kind floating plaza that utilizes some of the same technologies employed in the construction of underwater vessels.
The project will transform a 19-hectare vacant area on the coast of Lake Worth Lagoon, the narrow sea channel that separates the two cities of West Palm Beach and Palm Beach, creating a major new complex that includes housing, retail, and leisure facilities.
A pair of leafy ramblas that will allow people to stroll from the city centre of West Palm Beach directly into the middle of the lagoon, where a floating plaza will sit on the water, partly under the sea level, thanks to a system of responsive air chambers similar to the ones used by submarines. The floating peninsula will incorporate a series of public facilities, including an organic restaurant with its own hydroponic cultivations, a circular pool, an auditorium, and a water plaza.
In the words of Carlo Ratti, director of the Senseable City Lab at the Massachusetts Institute of Technology and founding partner of Carlo Ratti Associati: "The project also showcases how a new technology allows us to radically redefine the relationship between architecture and water. Architecture usually conceives buildings as separate, autonomous entities, but in this case, the plaza inhabits the water as if it was carved right into it."
The project of the Currie Park master plan draws on Carlo Ratti Associati's long-time research on innovative uses of water in architecture. Construction will break ground next month and will be completed by 2018, allowing people to seamlessly live in their city - on the ground and over the water.