By Savitha Hira with inputs from Sonal Mamoowala
Photography: Masao Nishikawa; courtesy the architect
The Charnel House in Ryusenji Temple, Japan is an ossuary designed to keep pace with contemporary mindsets; without blurring the boundaries of religious sentiments…
Architect Yukio Asari of Love Architecture Inc. believes that 'time' and 'space' for revisiting the dead should be transcendent and beyond human knowledge. Substantiating his belief, he redesigns an old, rarely used temple at a graveyard complex, where Yukio proposes a unique way of visiting the dead with a new perspective for ancestral reverence.
The Japanese are renowned for their strict adherence to religious beliefs for the living as well as the dead. With winds of change, urbanization, global shrinkage and advancement in technology, architectural design solutions too have changed.
An existing temple complex with a 40-year-old, unused Charnel House is now repurposed into a holistic temple complex that illustrates concepts of 'life' and 'death'; with Charnel House redesigned as a wooden-lattice-panelled octagonal building representing Hades - God of underworld and ruler of dead. It hosts the ossuary – a space for the dead; whilst its approach and surroundings are full of greenery and flowering plants – representing 'life', further accentuated by existing statues of Buddha and Jizo.
A dim entrance is illumined with a skylight above a central, rammed-earth spiral staircase that connects the three levels; besides this the short flight of stairs that bridges the surrounding water body at the entrance acts as the dividing line between the living and dead. It also clearly demarcates the area of worship from the area for funerals.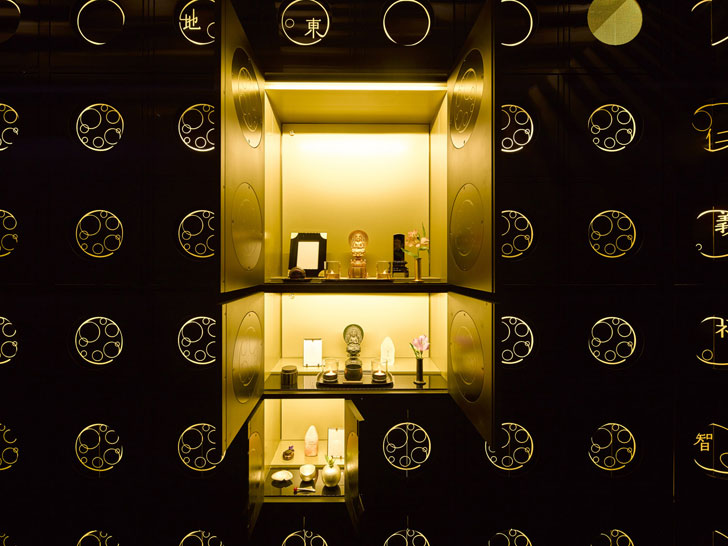 .
Inside the chamber, lockers (housing the Buddhist altar and a cinerary urn) with luminous doors appear like planets and stars; gleaming as light filters through the gaps of the bamboo ceiling. Here, a small prayer area enables connection with the departed souls.
The architectural exercise that transcends the built form, delving deeper into the emotional ethos of relationships is an affirmation of the custom of visiting graves, even though the form of the grave changes. Not only is the Charnel House different from the conventionally known graveyard, it does not follow the traditional Jidan system either (Jidan was a system, where commoners had to register with a temple to prove their Buddhist faith - the financial basis of many temples in Japan).