Photography: Courtesy Bureau de Change
Droplet is a sensorial installation by architecture practice Bureau de Change that opened to audiences in London last month in an attempt at knowledge-sharing about proprietary façade finishes…
Organised as part of building materials' magnate Sto Group's activities, the installation focuses on a three-dimensional surface made of 100 petal-like forms and 100 pendulums suspended directly above in a grid formation, creating a field of vertical elements.
The sunken petal-like forms, which are CNCd from Sto's lightweight facade material, will evolve over the exhibition's duration. Coloured liquid gently trickles down the wires of the pendulums suspended above, eventually dropping from the tips of the pendulums onto the petals below.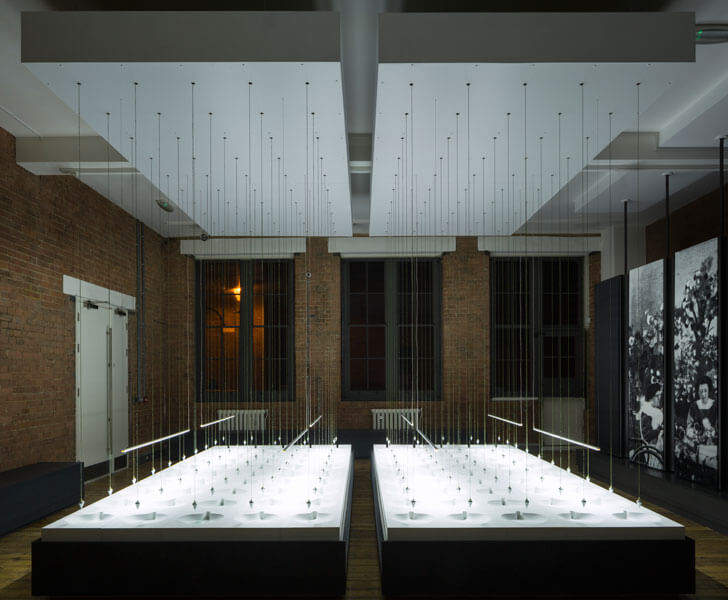 .
Half the petals are coated in a Sto IQ façade finish, the micro-textured surface of which supports self-cleaning and guarantees active, and moisture regulating weatherproofing of facades: dirt runs off with the rain. In contrast, the other half is coated in conventional façade paint, where droplets cling to its surface, building layers of intense colour throughout the exhibition. While this painterly effect is beautiful, the colour subtly hints towards the dirt, algae and fungal growth many facades are hindered with.
The highlight of this installation lies in the ingenuity of architects Katerina Dionysopoulou and Billy Mavropoulos, who have taken a very technical, scientific and rather un-visual set of Sto materials and reinterpreted them to explore the past and potential futures of architecture. The underlying premise is aimed at providing solutions for healthier and more sustainable buildings by creating awareness about cleaner, quick-drying façades, and heat management on dark-coloured façades among the building fraternity - architects, developers and contractors.
As Director at Bureau de Change, Katrina says, "The main challenge of the brief was how we could utilise a product whose 'magic' effect is essentially invisible. The installation sets up a 'compare and contrast' scenario, whereby the IQ coating can be seen working in a live way." Incidentally, the intriguing narrative has also succeeded in embedding the product and the installation into the history of the site.
Visitors can experience the installation at Sto Werkstatt (7-9 Woodbridge St, London EC1R 0EX), from 10am to 5pm, Wednesday through Friday, or by appointment.