Photography:
Ema Peter; courtesy v2com
Read Time: 2 mins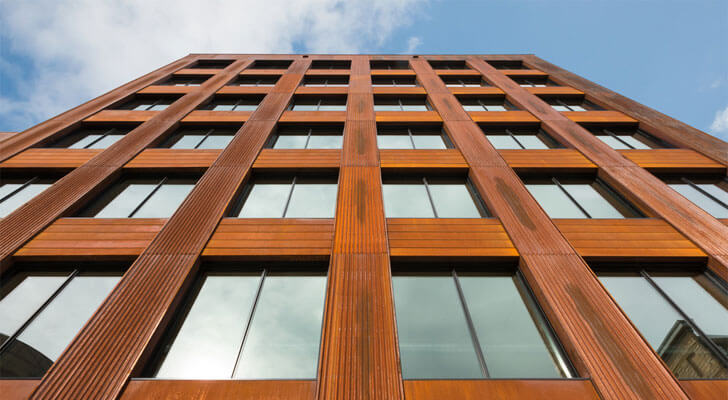 .
United States' first modern timber high-rise, T3 is the current talk of the town. Is it time for good-old wood construction to break new frontiers in design?
T3, which stands for 'Timber, Technology, Transit' is a modern interpretation of the robust character of historic wood, brick, stone, and steel buildings and is equipped with state-of-the-art amenities, environmental performance, and technical capability.
Envisioned as a unique model of a new-office building, it fulfils the design objective, which was to build on the character of the past with a modern perspective. The building offers 224,000 sq. ft. of office and retail space and uses exposed engineered wood components (chiefly glulam and nail laminated timber) for the roof, floors, columns and beams, and furniture. Besides,
steel, masonry and accent materials complement the wood to create an authentically tactile work environment evocative of classic urban lofts.
Erected at a rapid speed exceeding conventional steel-framed or concrete buildings, almost 180,000 sq. ft. of timber framing, averaging 30,000 sq.ft. of floor area was being installed every week. T3 is lighter than comparable steel or concrete structures; the construction reduces the depth and extent of excavation and foundations. Additionally, the embodied carbon in the building's wood structural system is lower than that found in conventional buildings found throughout most of downtown Minneapolis and the North Loop.
The building's aesthetic success can also be attributed to the mass timber construction. As Candice Nichol, MGA Associate and T3 Project Lead, informs, "The texture of the exposed NLT is quite beautiful. The small imperfections in the lumber and slight variation in colour of the mountain pine beetle wood only add to the warmth and character of the new space." Extensive exterior glazing at every level as well as views into the ground level social workspace with wood furniture, booths, and a feature stair, allow the public to experience the building.
Designed by Vancouver-based Michael Green Architecture (MGA) in conjunction with Architect-of-Record DLR Group, the seven-storey high-rise in Minneapolis' North Loop neighbourhood is currently the largest completed mass timber building in the U.S. With changing building codes throughout North America, the architects feel that tall wood buildings will become more common. A pioneer in this building type, T3 has broken new ground and is perhaps a prototype for future commercial mass timber buildings.
Considering the rich and storied history of wood construction, should we presume that this could have a global outreach; revitalizing the next century of buildings more sustainably? We will have to wait and watch.