Photography: Courtesy
People's Architecture Office
Read Time: 2 mins
.
Peer-to-peer housing rental website, Xiaozhu's office is a 'slice of life' collage that regales as it fires creativity…
Competitive times mandate progressive work environments that drive holistic growth. When
People's Architecture Office and People's Industrial Design Office were approached to design the four-year old start-up, Xiaozhu's 350 sq. m. headquarters in Beijing, they decided to create a highly flexible work space that could be reconfigured at will, each time reinventing the ambience.
.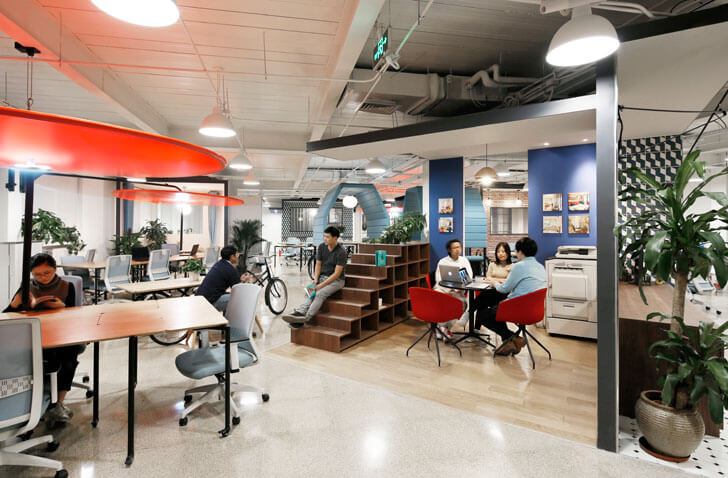 .
Reflecting the company's open spirit, the design inserts the casual comfort of home life into the workplace with spaces and furniture that easily combine and separate, mobile meeting rooms, and power outlets that swing to desired locations. Like Xiaozhu's online business, the office interior consists of a collage of various domestic spaces.
.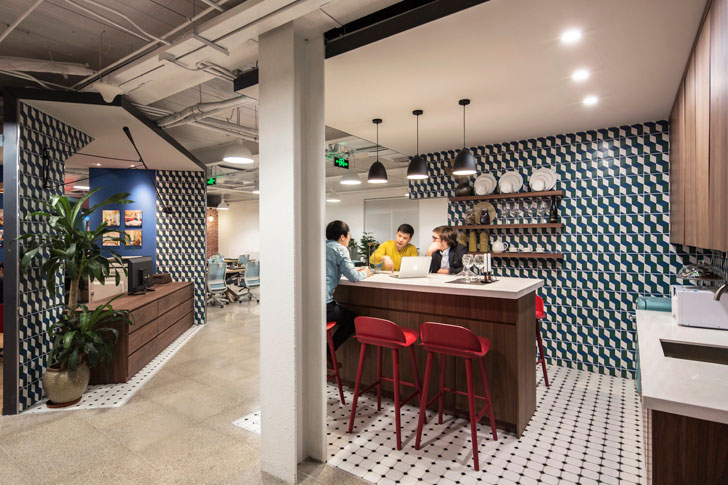 .
Christened 'Sliced House', the design concept is based on a house that has been divided and its parts dispersed throughout an otherwise banal office interior. Shared interior finishes between split spaces make apparent that adjacent portions refer to a single room. These sliced samples of domesticity include kitchen, living room, and bedroom and double as ad hoc meeting areas.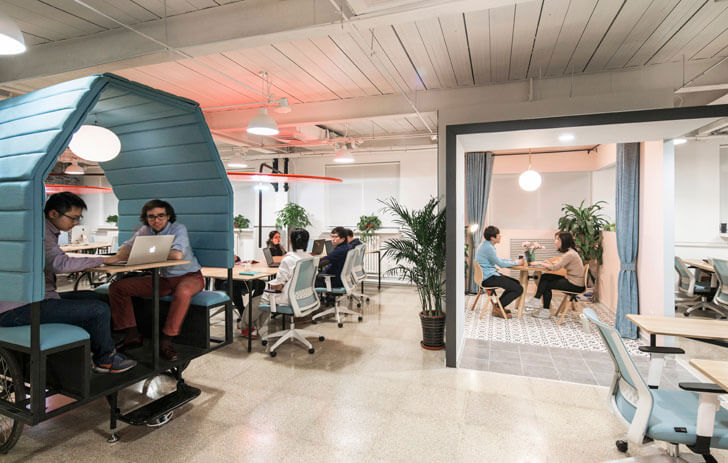 .
.
In terms of furniture and furnishings custom-designed by PIDO, long-span cantilevered tables supported by only four legs create undisrupted space underneath to provide seating flexibility as additional members can easily join in for spontaneous conversation.
.
Numerous mobile Tetris Tables that can be detached, combined and rearranged facilitate working in groups or individually; red 'umbrellas' swivel to different locations to provide overhead light and electricity; a long conference table that can be split into three smaller tables, allows the conference room itself to be divided into three smaller rooms, when needed.
Playing with quirk in equal measure, converted tricycles pose as workspaces and informal meeting areas on wheels – referencing the architect firm's previous offering of a futuristic housing concept, Tricycle House, and the often unique living spaces found in China.
The premise of this fun office lay in the spontaneity of interactions, thoughts, ideas that are essential in fostering innovation in China's emerging service economy; besides its laudable highlight - architect-client synergy that has facilitated this out-of-box design!