Photography:
Laurian Ghinitoiu; courtesy UNStudio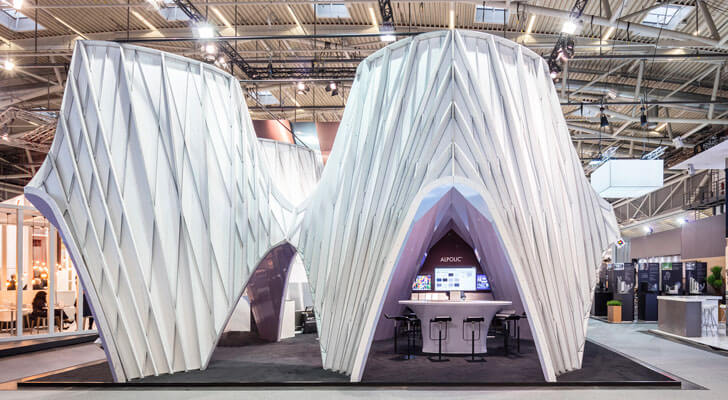 .
UN Studio explores the properties of a signature material by transforming it into a spatial structure; and thus discovers
possibilities for innovative façade application…
In 2015, UN Studio created a pavilion for
Mitsubishi Plastics out of their signature material, ALPOLIC TM. At the new BAU2017, which opened on Monday, 16th January,'17, at Munich, the architects have once again emphasized the specific characteristics of the material to chisel the new Mitsubishi pavillion.
Elaborating on the earlier design, where the material was used as a three-dimensional cladding pattern, the current one
transforms the material into a spatial structure, reinstating its properties of being ultra-light and strong as a façade material with excellent fire resistance; in addition to displaying homogenous and very durable fluoropolymer coating methods.
.
Designed as a fully self-supporting, ultra-thin feature without any additional structural elements, the geometry draws from principles that exist in nature to create stability and strength, such as the venation of leaves or the natural behaviour of catenary lines in spider webs.
Making use of parametric design techniques and smart fabrication solutions, the pavillion is built on a single structural element, which is mirrored and rotated in several directions and combines fabrication efficiency with various cone-shaped spaces. These cone-shaped spaces display either the front side of the material with the coated panels or the untreated back side, revealing structural ribbons and the technical build up of the thin sandwich panels. For the coated front side a prismatic finish with Lumiflon® FEVE fluoropolymer technology is used. This combines the durable qualities of the coating with the ever-changing effects of pearlescent pigments.
The result is a variety of different spaces to be explored by the visitor, with some areas showing the feature as a three-dimensional façade, while in others the technical principles of the material can be explored. Both open up towards semi-enclosed spaces and invite visitors to the stand to enter for more information and enclosed gatherings. The pavillion is completed by a back wall, where large samples of ALPOLIC sheets are displayed. Throughout, moments for discussion and reflection are created, together creating a journey of inspiration for innovative façade design.
Client: Mitsubishi Plastics, Inc.
Design Team: Ben van Berkel, Gerard Loozekoot with René Wysk, Filippo Lodi and Alexander Kalachev, Nanang Santoso, JörgStanzel & Jung Jae Suh
Location: Messe München, Germany
Building surface: 90m²
Building volume: 536m³
Programme
: Fair stand for construction fair BAU 2017