Photography: Anantara Jabal Akhdar; courtesyv2com
.
French Moroccan Architect and founder of Atelier Pod, Lotfi Sidirahal chisels a unique and contemporarily-rooted resort within the extraordinary heritage of the Saiq Plateau in the Sultanate of Oman...
Perched over 2,000 metres above sea level on the curving rim of a great canyon in Jabal Akhdar, Anantara Jabal Akhdar Resort is located on a 66,000 sq. m. cliff edge plot, with a total built-up area of 24,000 sq. m. including 115 keys, six restaurants and lounges, a signature spa and recreation facilities.
The long inaccessible Jabal Akhdar, Arabic for "The Green Mountain", is a towering massif on the vast Saiq Plateau and the award-winning firm that specialises in creating strong identities, merging brand values and environment specificities takes contextual cultural, topographical and historic details including primitive vernacular typologies into consideration to embark on this horizontally resplendent design.
.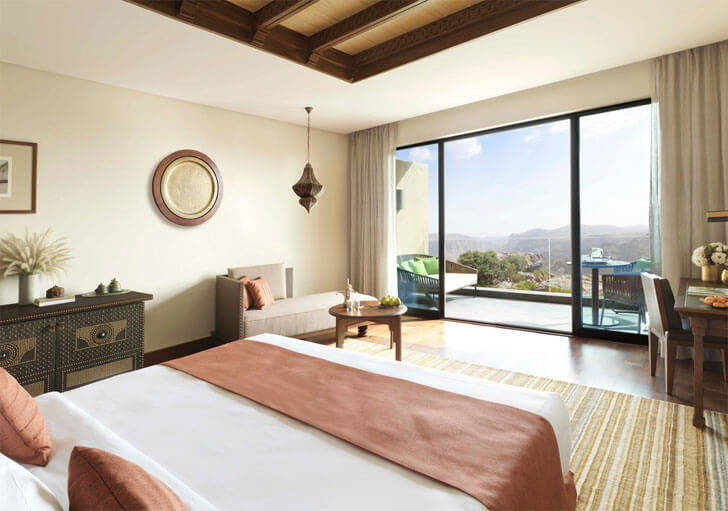 .
Key elements in the character of traditional Omani architecture and interiors are integrated into the resort's concept without overshadowing its design. The resort reflects the fortification typology of the Nizwa region's stronghold, ensconcing guests in modern ramparts inspired by the commanding mountain citadels and re-imagined with sophisticated modern interiors.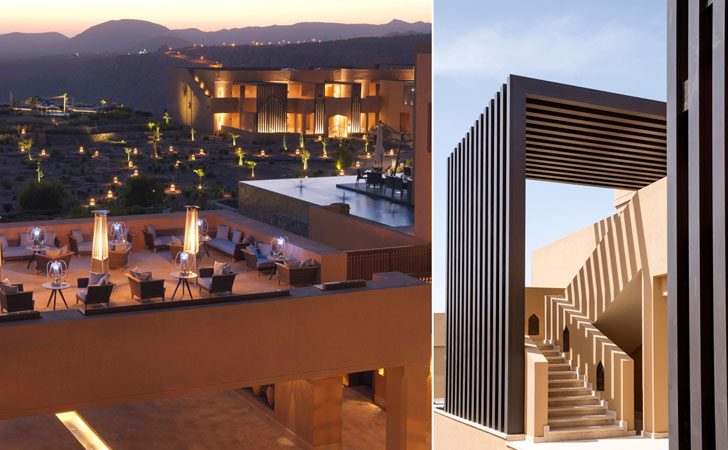 .
.
The sense of drama and beauty is heightened by balancing simple massing with delicate detailing, the play of light and shade, texture of the natural materials, rustling vegetation, the sound of flowing water throughout and vernacular elements that express the essence of local heritage.
Evoking strong visitor experience, the lobby opens to a wooden geodesic dome spanning over ten metres in diameter with a peaceful contemporary fountain centred beneath it. As one moves through to the central courtyard decorated with revisited Omani arcades, one can catch a first glimpse of a striking rectilinear frame, increasing the perspective depth of the mountain silhouettes, stretching over the garden terraces and beyond to the dramatic gorge. Accentuating this, is the large open fireplace in the courtyard, which is unmistakably the heart of the resort.
Incorporating a sense of timelessness in the vein of rooted luxury, elegant interiors exude warm, rich colours alongside traditional features represented in local artwork, Arabesque lanterns, and handmade pottery. Indigenous iconic mountain roses, pomegranates and marine fossils permeate design choices, as reflected in the décor and artwork.
Perpetuating the philosophy of contrast, the ultimate aesthetic is never in contradiction with its environment and yet never the same!
Client: Anantara Hotels, Resorts and Spa.
Design Principal: Lotfi Sidirahal
Lighting Design: Atelier Pod & LDC, Madrid
Landscape Design: Atelier Pod & HED, London
Total built-up area: 24,000 sq. m.
Program: 115 keys, six, a signature spa & recreation facilities.