Photography:
Manfred Seidl; courtesy Najjar & Najjar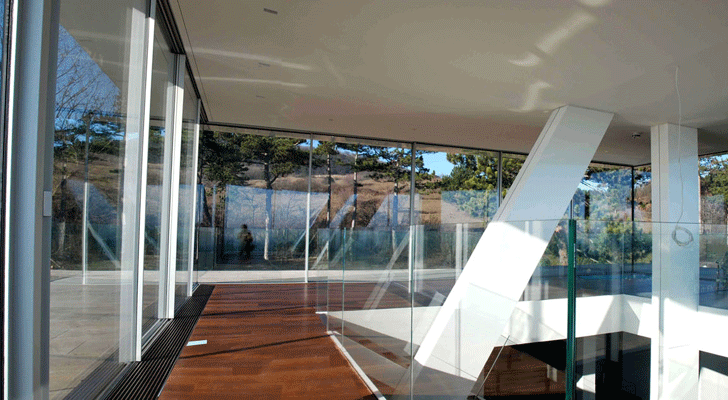 .
A re-imagined restoration of a 20th century villa on the hills of the Vienna basin, results in a contemporary house, devoid of any traces of its discordant history...
Located in an inharmonious residential belt, the house, originally built in the 1960s, is redesigned by Karim and Rames Najjar of Najjar & Najjar Architects, known for producing forms, which are not only bold and in-the-face, but also functional. So, while the unallied components of the structure, lacking the characteristics of an ideal villa, fail to provide any references for the redesigning process, the vantage points, afforded by the inherent nature of the sloping site, become the basis for the remodelling.
The contemporary villa, distinguished by virtue of its unique façade, ascribes a new identity to the house. With an aim to delineate the program in the interior spaces, the façade is treated as a jigsaw; where each piece not only has a unique identity, but simultaneously contributes towards creating a coherent language, which holistically unites the different surfaces.
.
.
Retaining the existing entrance at the ground level, the mass that constitutes the ground and first floors is dedicated primarily for private spaces, which includes the bedroom, bathrooms and fitness rooms. The corresponding façade is an expression of the reticent spaces it accommodates; in that, it is composed of intimate openings with an overall solid appearance. At the same level, on the west side, is the terrace and pool area, accessed separately, owing to the slope on site.
The second floor is plonked on to the original building and projects out as a separate mass, resting on the base that forms the lower part of the house. In keeping with the design approach, this ancillary structure also has a distinguishing quality, clad in white Alucobond.
The house becomes progressively open and light as one moves upwards. The third level, which is essentially a pavilion, crowns the house, and is composed of glass facades on all sides. The roof, supported on a tripartite system of columns, thus appears like a hovering plate over the pavilion.
This composition of solid and lightweight materials contributes to creating vantage points from the various levels and directions of the house, with panoramic views of the valley of the River Wein in the north east, the Alpine foreland in the south and the remote Hungarian and Slovenian borders on the east.
Redesigning: Najjar & Najjar Architects
Principals: Prof.

Karim Najjar & Prof. Rames Najjar
Team members:
Marek Dziubas, Conrad Kroenke, Santosh Kumar, Magdalena Kufel
Site Supervisor: Marek Dziubas / Najjar & Najjar
Building Services: TGA Consulting Vienna Peter Cornelius, Reza Saber
Structural Engineering: Werkraum Wiens
Landscape Gardening: Ursula Wieser