By Annie Agarwal
Photography:
Laurian-Ghinitoiu; courtesy So-IL
'Breathe' - a housing prototype for eco-optimised urban living was recently showcased at Salone del Mobile, Milan. IAnD reviews the proto for practicability…
"What happens, when we
view houses not only as a space in which to live, but as an active part of our environment?" Addressing this practical social and urban issue,
MINI LIVING
- a lab platform working on urban living solutions, has
teamed up with New York based architects SO-IL, to conceive a compact space, conscious of its surrounding environment.
.
Based on MINI's principles of 'creative use of space' and 'minimal footprint', Breathe
offers solutions to the challenges of space and environment posed by conventional living.
It inspires active living. SO-IL principal, Ilias Papageorgiou, explains, "
Breathe brings its residents into direct contact with their environment. By making living an active experience, the installation encourages visitors to confront our tendency to take resources for granted."
Structure
.

Installed on a 50 sq. m. unused urban plot in an alleyway, the modular steel frame structure is designed to accommodate three people in up to six functional spaces; and can be dismantled and reassembled anywhere. Housing basic living areas starting from the kitchen on the ground floor (catering to essential social interface), sleeping and washing areas are stacked capping the environment with a roof garden.
.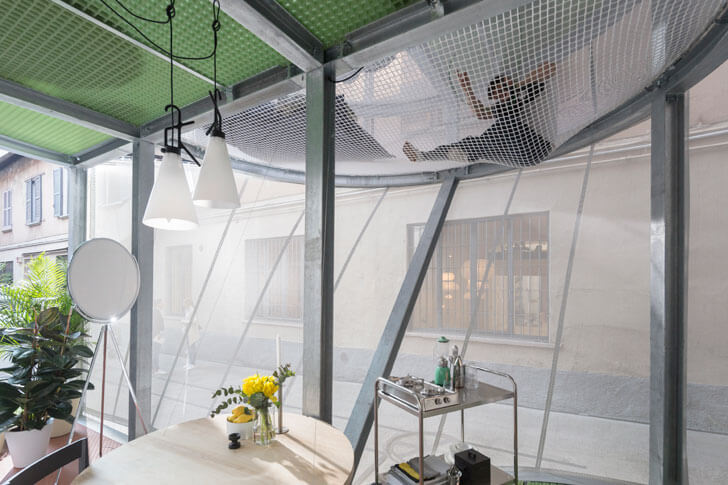 .

The vertically designed translucent urban microclimate is characterised by an intelligent use of basic resources like air, water and light. The building envelope is made from a flexible, light, permeable
PVC mesh filter
that neutralises
the outside air, and is
replaceable to suit any climate.
Plants on a roof garden further enhance air quality. In terms of light, the translucency of the building envelope floods the space with ever-changing natural daylight. And as for the water, the roof collects rainwater and feeds the kitchen and wash areas below.
.
.

After MINI LIVING's exploration of shared collaborative spaces with the installation of Do Disturb and Forest, Breathe is third in the series and offers a holistic approach to sustainability. However, how the translucent envelope that clearly shows silhouettes despite spatial divisions is going to afford the much-needed privacy remains a question mark; because even if the designers have considered the issue, which they surely must have, they've refrained from sharing it.
Team: Florian Idenburg, Jing Liu, Ilias Papageorgiou, Ian Ollivier, Isabel Sarasa, Iason Houssein, Pietro Pagliaro, Alvaro Gomez Selles
Collaborators: Fabricator: Xilografia Nuova Sri
Dimensions: 5m x 8.25m x 10.3m
Status: Complete April 2017