Photography: Steve Troes Fotodesign; courtesy v2com
Read Time: 2 mins
Metaform architecture office chisels out a new typology addressing the overall aspiration of marrying current housing needs and issues with specific conditions of the site...
Constant growth and rising housing demands plague urbanites across the globe; giving rise to the need to choose an apartment typology over single-family houses. Poor living quality, lack of feeling of belonging and identity; lack of natural light and view; proximity to neighbours resulting in lack of visual and acoustic privacy; and insufficient physical space in various forms for a life of comfort are factors inherent to most burgeoning cities today.
.
Metaform architecture office has carefully analysed these issues and using them as base points of transformation into resources, and furthermore into qualities, presents a new vision of a collective housing typology.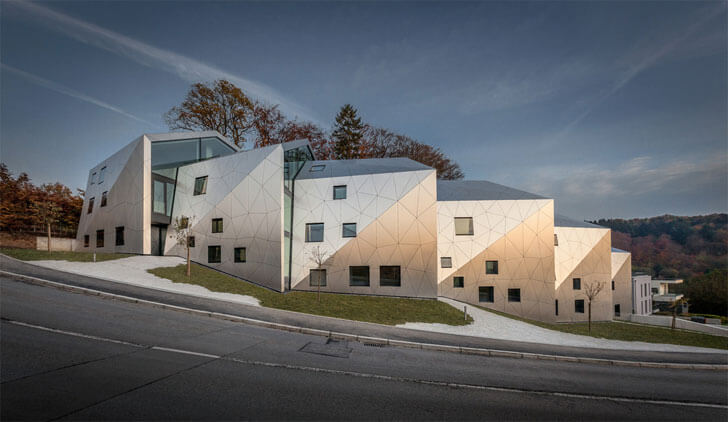 .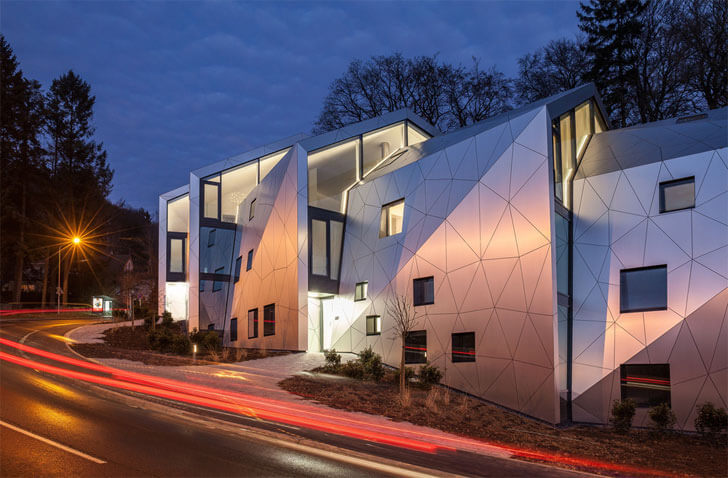 .
Addressing a plot situated along a particularly curved street, a very steep topography with 10m of difference in height and a preservation of three-century-old trees condition the initial shape of the building. Responding to specific urban context (small-scaled housing units on one side and large-scale apartment blocks on the other), the structure creates a subtle transition by splitting the main volume into six smaller, vertically shifted blocks. By doing this, it not only adjusts to its surroundings, but preserves the required density, nurturing the feeling of belonging, identity, and human scale.
Splitting and shifting the volume makes the reinforced concrete building responsive to natural light through a ventilated facade made of triangular aluminium panels, opening it to the panoramic views of the landscape and the city.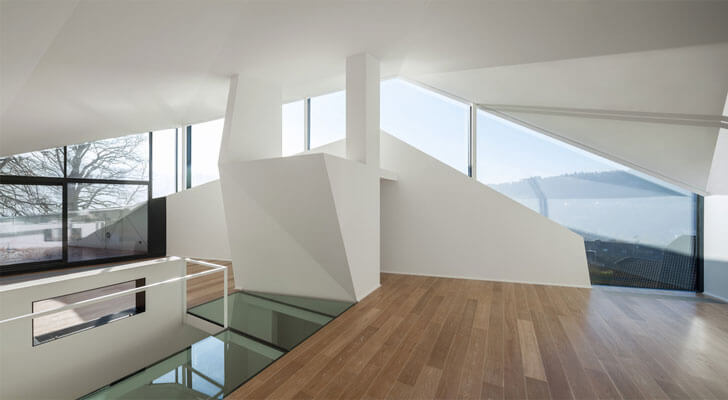 .
Additionally, this also ensures residents' privacy by enhancing vertical communication; eliminating long horizontal, often dark and acoustically unfavourable corridors; and connecting the parking directly to the apartments. This solution allows for transversal apartment configurations with three-side orientation. Alternately, facilities such as common kitchen, leisure room, games and the like promote interaction and camaraderie.
An important aspect of the energy concept of the building is the orientation; the large openings appear mainly on the south and eastern facades, whereas the north facade is mostly closed. Triangular openings are filled with three-layered glass in an aluminium frame; while large glass elements are specially coated with anti-UV film to prevent the building from overheating. Further, a centralized ventilation system and solar panels optimize energy efficiency, classifying the building as low-energy as per Luxembourgish laws.
Client: ASARS Construction
Architects: Metaform architects
Gross floor area: 2250 m²
Location: Dommeldange, Luxembourg