By Kiran Ghosh
Photography: Courtesy Caza Architects
Read Time: 3 mins
Carlos Arnaiz's approach to design involves a careful inspection of culture, art and science to accurately reflect the world we live in. IAnD explores his trajectory with the design of spiritual spaces like the 100 Walls and La Salle…
CAZA's designs are people-centric and rooted in how people use spaces. When applied to the design of sacred spaces, this ideology successfully achieves spatial democracy. It creates architecture that draws people in through the mere act of acknowledging their individual relationship with spirituality.
In conversation with IAnD…
IAnD:
As contemporary architects, how do you ensure that architectural interventions do not become desecration? What are the challenges that you have faced breaking away from the historic typology?
CA:
In our experience, we have found that religious leaders are very interested in how architecture can represent the future of their congregation. All our projects have started as a conversation about, what architecture can do to open the church to more people, new ideas and how to build on this tradition to evolve it in new ways.
The 100-Walls Church invites us to wander its grounds and discover sunken gardens, pockets of blue light, and an enigmatic profusion of talismanic walls. A multitude of doors and passages remind us that a sacred space today sh
ould draw out meaning in its inscrutability.
The design for the 100-Walls Church challenges what sacred spaces look like today. Within the church, no room is completely bound by four walls.
IAnD:
The modern church has a varied demographic. How do you cater to such different population with requirements of different levels of engagement? How important is it to make a church feel democratic?
CA:
We are interested in looking for architectural forms that speak to this idea of difference and multiplicity and public engagement. Today, it is quite common to talk about our cultures as diasporic, and the story of the saint to whom the 100 Walls Church is dedicated to, for example, is a microcosm of the immigrant experience. This idea of different cultures coming together, but preserving their own unique character is very important to us.
Combining several preexisting structural features with a contemporary façade, Hamilo Pavilion marries a subtle space with its extraordinary natural surroundings.
Its 125-square-foot pavilion punctuates a verdant forest without overpowering it.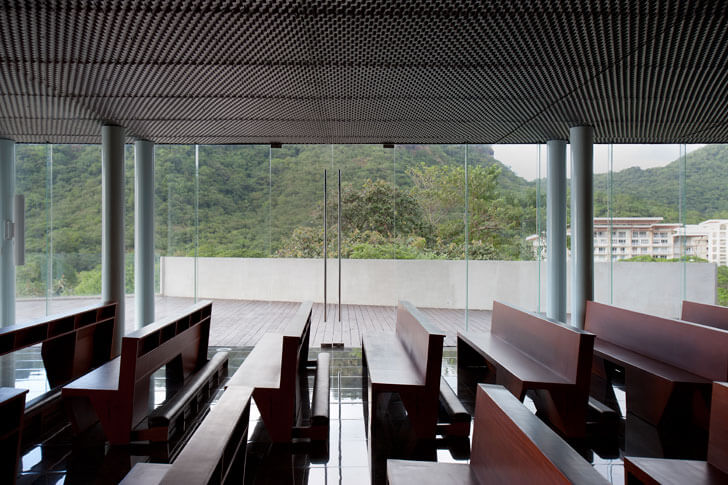 The Hamilo Pavillion building hosts a range of social events, with multiple points of access demonstrating the structure's versatility and organic position within the landscape.
IAnD:
How has practicing in Philippines been different from practicing around the world? How does this difference materialize in the churches you design?
CA:
It is compelling to explore the mixture of sameness and difference in architecture in local cultures. We employ a convergence of international architectural practices, but local traditions are still important and are folded into our designs as a force for innovation. We also try to build local craft traditions and knowledge of certain materials / economies, etc. through our practice.
The Marian Church in Alabang, Philippines by CAZA creates a place of worship that is closely connected to nature with an open-air amphitheater, where people can sit and listen to mass.
People enter the Marian Church from multiple points and flow gently throughout the Church's grounds,
creating their own spiritual journey as they arrive to the congregational hall.
IAnD:
From where do you draw inspiration to design these sacred spaces? What sets them apart from each other?
CA:
While designing sacred spaces, both religious and secular, we try to make spaces with an inspirational value, something that raises the civic quality of our environment. Before starting any project, we try to work like archeologists and anthropologists, collecting artifacts that stand for this wide definition of context. We will look at an old structure from another religion, an art installation, anything that will give us a direction we're interested in going. We're agnostic, when it comes to borrowing.
La Salle Church is designed to be open to multiplicity. The design of the entire campus works through differences that are sensed rather than imposed.
At La Salle Church, architectural cues set in motion by scale, slope, texture and vegetation underline openness to collaboration
and the
geometric language gathers strength from its ability to adapt and change.
A church should feel like... a place that takes us outside of ourselves.
The best way to explore religion is by/through... asking many questions.
An architect is not a god, but… connects the physical with the metaphysical.
Designing a church requires... some sense of our limits as mortals.
The most striking characteristic of Philippines is... its people.